DHQ: Digital Humanities Quarterly
Preview
2023
Volume 17 Number 3
The Digital Environmental Humanities (DEH) in the Anthropocene: Challenges and Opportunities in an Era of Ecological Precarity
Abstract
Researchers in the complementary fields of the digital humanities and the environmental humanities have begun to collaborate under the auspices of the digital environmental humanities (DEH). The overarching aim of this emerging field is to leverage digital technologies in understanding and addressing the urgencies of the Anthropocene. Emphasizing DEH's focus on natural and cultural vitality, this article begins with a historical overview of the field. Crafting an account of the field's emergence, we argue that the present momentum toward DEH exhibits four broad thematic strains including perennial eco-archiving; Anthropocene narratives of loss; citizen ecohumanities; and human-plant-environment relations. Within each of the four areas, the article identifies how DEH ideas have been implemented in significant projects that engage with, envision, re-imagine, and devise communities for environmental action and transformation. We conclude with suggestions for further bolstering DEH by democratizing environmental knowledge through open, community-engaged methods.
Introduction
A hand-colored lithograph from the mid-nineteenth century features the common brushtail possum (
Trichosurus vulpecula
), an Australian marsupial illustrated by artists H. C. Richter and Elizabeth Gould (
see Figure 1
). Naturalist John Gould included this illustration in his monumental three-volume compilation The Mammals of Australia (
1863
), the first major survey of Australian mammals, some of which have declined dramatically in number or become extinct since its publication. In also depicting what appears to be a small banksia, a kind of wildflower common throughout Australia, the image suggests the ecological interactions between the native marsupial and the endemic plant. An engrossing visual record of environmental history and interspecies relations, the illustration and many others are freely available through the Biodiversity Heritage Library [
BHL 2021
]. By "collaboratively making biodiversity literature openly available to the world as part of a global biodiversity community" [
BHL 2021
, ¶1], this open-access platform exemplifies the digital environmental humanities put into practice for engendering communities of action — in this instance, oriented toward biodiversity awareness and protection in Australia. While revealing early Anglo-European modes of visually representing Australian fauna, lithographs such as these today have the potential to catalyze ecological awareness and change, promote an appreciation of the country's exceptional biodiversity, and serve as educational launching points for exploring the entangled histories of animals, plants, people, landscapes, ecologies, and technologies in Australia and elsewhere.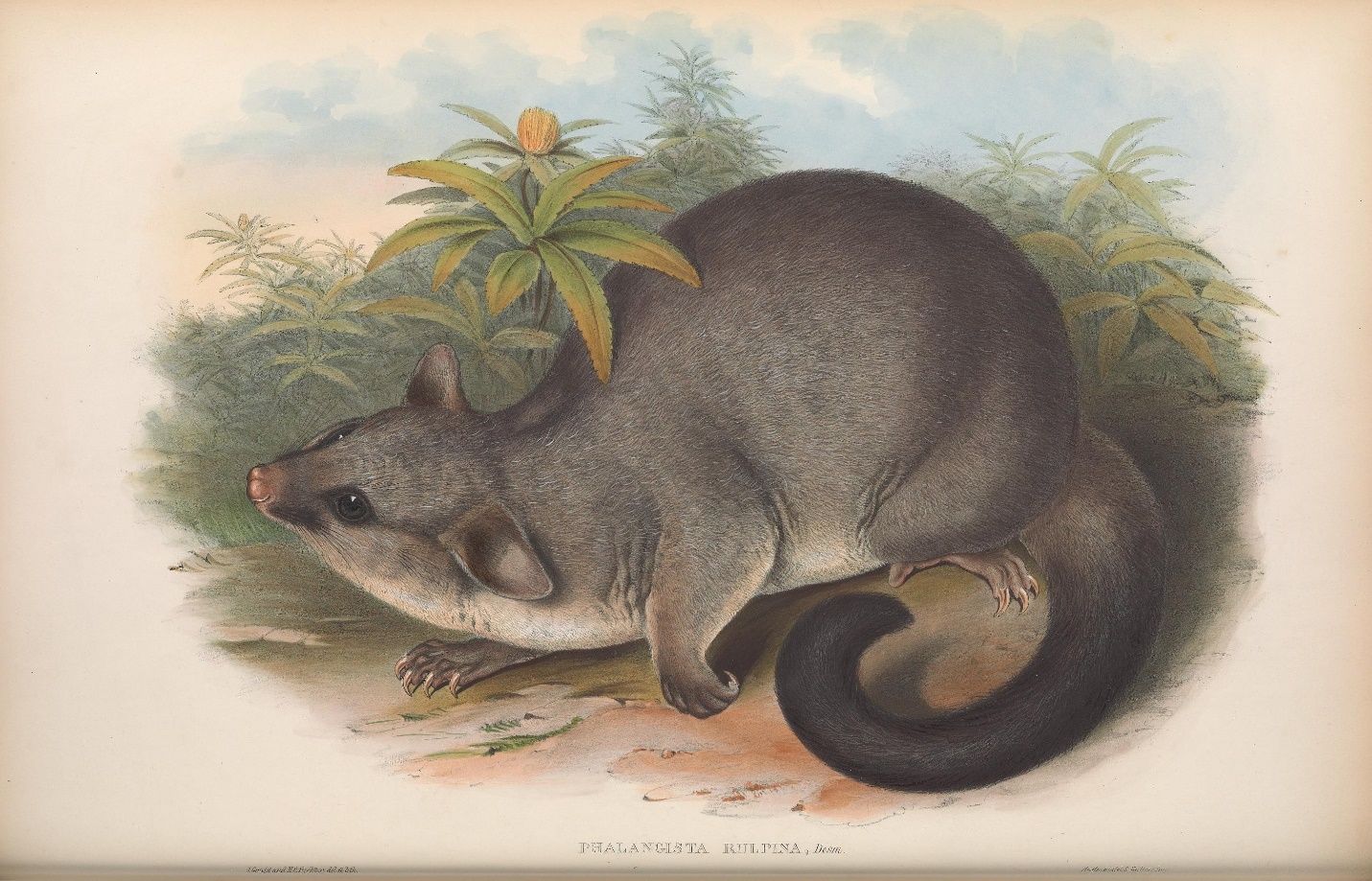 This article provides a broad, comprehensive overview of current developments and prospective paths in the
digital environmental humanities
(abbreviated as DEH throughout). It begins by calling attention to DEH's focus on natural and cultural vitality — or what theorists of heritage term "biocultural diversity" [
Bridgewater and Rotherham 2019
] — in an era of pervasive environmental decline. We turn retrospectively to a synopsis of the growth of DEH over the last decade as an integrative area of scholarship synthesizing the companionable aims of the digital and environmental humanities. Key theoretical and methodological elaborations of DEH — as well as recent developments in the field — will be delineated. Assembling a narrative of the field's emergence, we argue that the current acceleration of DEH in response to the Anthropocene context reveals the following four broad thematic focal areas:
Perennial eco-archiving (through the work of the Long Now Foundation)
Anthropocene narratives of loss (What is Missing?)
Citizen ecohumanities (Atlas of Living Australia)
Human-plant-environment relations (Native American Ethnobotany Archive)
Within each area, we identify the ways in which DEH ideas and practices have been implemented in these especially illustrative projects that engage with, envision, re-imagine, and devise communities for environmental action and transformation. We conclude with recommendations for supporting and strengthening work in DEH by further democratizing biocultural knowledge via open, community-engaged, participatory approaches. Throughout the article, we view DEH as conceptualized within university contexts but extending beyond the academy to encompass the work of community organizations and concerned individuals. Furthermore, in selecting the four case studies above, we necessarily exclude related projects of relevance to DEH such as Anna L. Tsing and colleagues' Feral Atlas: A More-Than-Human Anthropocene (
2021
), an archive of field reports from artists, humanists, and scientists on feral ecologies that continue to resist human control and have spread widely.
DEH in the Anthropocene
DEH encompasses diverse histories, theories, debates, practices, techniques, and projects internationally [
Chang 2021
] [
Cohen and LeMenager 2016
] [
Jørgensen 2014
] [
Posthumus, Sinclair, and Poplawski 2018
]. As a case in point,
Figure 2
represents central Perth, Western Australia, illustrating how the area might have appeared in circa 1829, a year of intensive colonial activity during which James Stirling explored the Swan River and Charles Fremantle seized the area for the British Crown. In 2014, an interdisciplinary research team based at Edith Cowan University in Perth produced the visualization using GIS (Geographic Information System) and three-dimensional modelling techniques incorporating an array of source materials including Noongar (Aboriginal Australian) narratives, nineteenth-century Swan River Colony maps, aerial photography, European settlers' accounts, artists' impressions, literary representations, and geological and vegetation charts [
Ryan, Brady, and Kueh 2019
]. Given its inclusion in a public exhibition on wetlands at Perth Town Hall in 2014, followed by a permanent digital presence on the state museum website [
Western Australian Museum 2021
], this reconstructed perspective of central Perth offers a graphic means to consider the city's historical development and envisage opportunities to prevent the further loss of Perth's extant wetlands. The "Re-imagining Perth's Wetlands" project is an example of the multifaceted, multidisciplinary, community-focused, and often-participatory orientation of DEH through initiatives aiming to broaden public awareness of the interlinked cultural and ecological urgencies of the present. Work in DEH has the potential to energize political, social, and community transformations including, as this case demonstrates, the conservation of rapidly disappearing urban wetland environments. In contrast to landscape visualizations such as this, other initiatives use different methods including the archival conservation of biocultural heritage through open-access, participatory digital platforms (see, for instance,
GeoHumanities 2018
and
Herbaria 3.0
).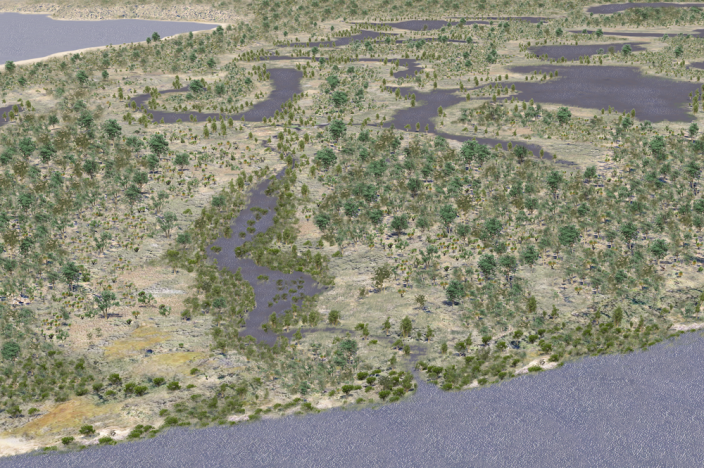 DEH responds to the exigencies of the Anthropocene. As a provisional unit of the
Geological Time Scale
— a system of chronological dating based on changes in geological strata over vast periods of time — the Anthropocene "reflects profound and ongoing Earth System change" [
Zalasiewicz et al 2019
, p. 331]. Mounting geophysical data differentiates the Anthropocene from its precursor, the Holocene, beginning roughly 11,650 years ago. Geochronologists locate the historical boundary between epochs in the Great Acceleration — the rapid upsurge in human population — and the first nuclear bomb detonations, both in the mid-twentieth century [
Zalasiewicz 2015
]. The Anthropocene "represents a major change in trajectory of the Earth system from the more or less stable conditions that have seen human civilization develop and expand over the past few thousand years" [
Zalasiewicz 2019
, p. 500]. Nevertheless, the increasing circulation of the Anthropocene neologism has provoked proposals for alternative designations — from Capitalocene, Chthulucene, Homogenocene, and Myxocene to Plantationocene, Planthroposcene, Symbiocene, Thanatocene, and, even, Bandwaggonocene. Environmental historian Jason W. Moore (
2017
), for instance, advocates the term
Capitalocene
to acknowledge the vast networks of human and nonhuman labor exploited under global capitalism while Science and Technology Studies scholar Donna Haraway (
2016
) employs
Chthulucene
to foreground the "ongoing multispecies stories and practices of becoming-with in times that remain at stake" [
Harway 2016
, ¶24]. What's more, anthropologist Natasha Myers (
2017
) has proposed
Planthroposcene
as "an aspirational episteme and way of doing life in which people come to recognize their profound interimplication with plants […] The Planthroposcene is a call to change the terms of encounter, to make allies with these green beings" (
pp. 299–300
). As these lexical confutations suggest, a pressing task of the environmental humanities has been the formulation of novel vocabularies sufficient to articulate the formidable effects of rapid ecological change on shared natural-cultural thriving.
Key Developments in the Digital Environmental Humanities: 2011–2016
Theoretical and Methodological Tenets: Technology, Story, Ecology, Temporality
As a whole, the major theoretical and methodological elaborations of DEH attempt to synthesize the strengths — while redressing limitations — of the digital and environmental humanities as discrete fields [
Chang 2021
] [
Cohen and LeMenager 2016
] [
Cummings, Roh, and Callaway 2020
] [
GeoHumanities 2018
] [
Jørgensen 2014
] [
Ladino 2018
] [
Linley 2016
] [
Nowviskie 2015
] [
Posthumus and Sinclair 2014
] [
Posthumus, Sinclair, and Poplawski 2018
] [
Sinclair annd Posthumus 2017
] [
Travis and Holm 2016
]. This section briefly addresses four areas of focus within current conceptualizations of DEH as an emergent, integrative, and transdisciplinary field of research and practice: technology, story, ecology, and temporality. The capacity of DEH to address these four deeply entangled areas — often simultaneously — demonstrates its potential in the present epoch.
In an early elaboration of the field, Stephanie Posthumus and Stéfan Sinclair (
2014
) characterize DEH as "a new and burgeoning area that still remains largely undefined, but that asserts the importance of the humanities in responding to the ecological crisis while leveraging new tools and technologies" (
p. 254
). From their perspective, DEH brings the tools and methods of DH to bear on concerns within EH; conversely, EH's planetary and political focus helps to elucidate aspects of digital tool-making and critique central to DH. For Posthumus and Sinclair (
2014
), EH promotes sustainable societal interactions with the natural world whereas DH has remained less critical of techno-scientific practices that carry the potential for ecological harm. In turn, DH problematizes what Posthumus and Sinclair identify as EH's inherent bias against technocentric — and, even, technocratic — salves to social, cultural, linguistic, and environmental challenges. Moreover, DH's long historical outlook on the emergence of technologies introduces critical considerations — "the possibility of new interactions, new collaborations" [
Posthumus and Sinclair 2014
, p. 260] — to the environmental humanities whereas, complementarily, EH's emphasis on telling the stories of the natural world can transform the making of "digital archives, electronic editions and data visualisations" (
p. 269
). Posthumus and Sinclair propose
digital ecology
as a concept that, by reconciling the entrenched binaries of hardware/software, computer/user, and real/virtual, discloses how digital environments facilitate novel interpretations of material environments, and vice versa.
Posthumus and Sinclair's privileging of stories and storytelling aligns with Jørgensen's (
2014
) assertion that DEH centers on "new forms of storytelling and presentation" (
p. 110
). Indeed, innovations in new media technologies facilitate the emergence of multi-dimensional stories about the relations between people, nonhumans, landscapes, and technologies. In his analysis of the Norwegian Broadcasting Corporation's "slow travel" series of digitally-enhanced television programs, Jørgensen (
2014
) argues that "distant natures, those that are not experienced through the body but distributed through data and media, need different modes of analysis and storytelling" (
p. 109
). At the same time, environmental humanists assert that biocultural values take shape through the stories individuals and communities tell about nature as well as the stories that nature tells about itself [
Griffiths 2007
]. As environmental historian Tom Griffiths (
2007
) explains in a seminal overview of the environmental humanities, "The stories we live by determine the future. So, in harnessing the power of narrative, in listening to, rediscovering and generating true stories, we change the world" [
Griffiths 2007
, ¶2]. In similar terms, ecomusicologist Kate Galloway (
2017
) emphasizes the narrative possibilities of DEH for embracing the integral role of technology in comprehending and communicating ecological issues. Methods of aural-digital storytelling — audio-recorded soundwalks, multi-modal sound maps, and crowdsourcing techniques — expand audiences to comprise academics as well as community members grappling with the direct impacts of climate change, ecosystem degradation, and related urgencies. In particular, storytelling modes that incorporate the body and the multiple senses can engage the public more compellingly in environmental debates. For Galloway (
2017
), the creation of digital-narrative objects that "circulate in an open-access format and often contain research materials contributed by a research collective" constitutes an embodied, participatory process of social knowledge formation (
p. 52
).
DEH introduces ecological concerns to DH and, reciprocally, digital concerns to EH through the analysis of human-technological impacts on the biosphere. Margaret Linley (
2016
) characterizes this recalibration as "the ecological turn in the digital humanities" (
p. 411
). Having an environmental orientation that centralizes nature-culture-technology intersections, DEH encourages "advocacy, engagement, action, and participation as well as an ethics of responsibility, sustainability, and conservation" [
Linley 2016
, p. 427]. Most crucially, DEH approaches ecology not as a metaphor, figuration, or abstraction but as a material certainty that shapes the lived experiences of humans and others. Echoing Posthumus and Sinclair's elaboration of
digital ecology
, other scholars have proposed the term
digital Anthropocene
to signify the conjunction of the digital revolution, climate catastrophe, and social, political, and economic precarities [
Travis and Holm 2016
]. While developing digital and environmental competencies, DEH facilitates generative exchanges across the arts, humanities, social sciences, and sciences [
Travis and Holm 2016
, p. 203].
Correspondingly, Sidney Dobrin's (
2014
) theorization of
digital environments
calls into question the assumption that environmental crisis originates in technology and, more specifically, technological excess or technology-gone-astray. For Dobrin (
2014
), digital environments are "themselves natures and environments in and with which humans and non-humans forge relationships" (
p. 205
). As such, DEH presents a framework "emphasising the role of the humanities in responding to ecological crisis while also embracing new technologies and tools" [
Dobrin 2014
, p. 206]. To be sure, recent theory and practice in DEH has grown along the three axes of technology, story, and ecology, particularly in relation to the growing urgency of climate disaster and ecosystem collapse. Open-access resources such as NASA's Global Climate Change portal offer downloadable time-lapse visualizations, for instance, of ice mass loss in Greenland between 2002 and 2020 (
see Figure 3
). Similarly, the Smithsonian Institution National Museum of Natural History's "Eruptions, Earthquakes, and Emissions" (E3) application presents a time-lapse visualization of 250,000 volcanic eruptions and earthquakes since 1960 [
Smithsonian Institution 2013
]. Originating in the sciences, these and other digital environments — to invoke Dobrin's term — constitute invaluable storytelling platforms for EH-related research, pedagogy, and outreach in response to the Anthropocene.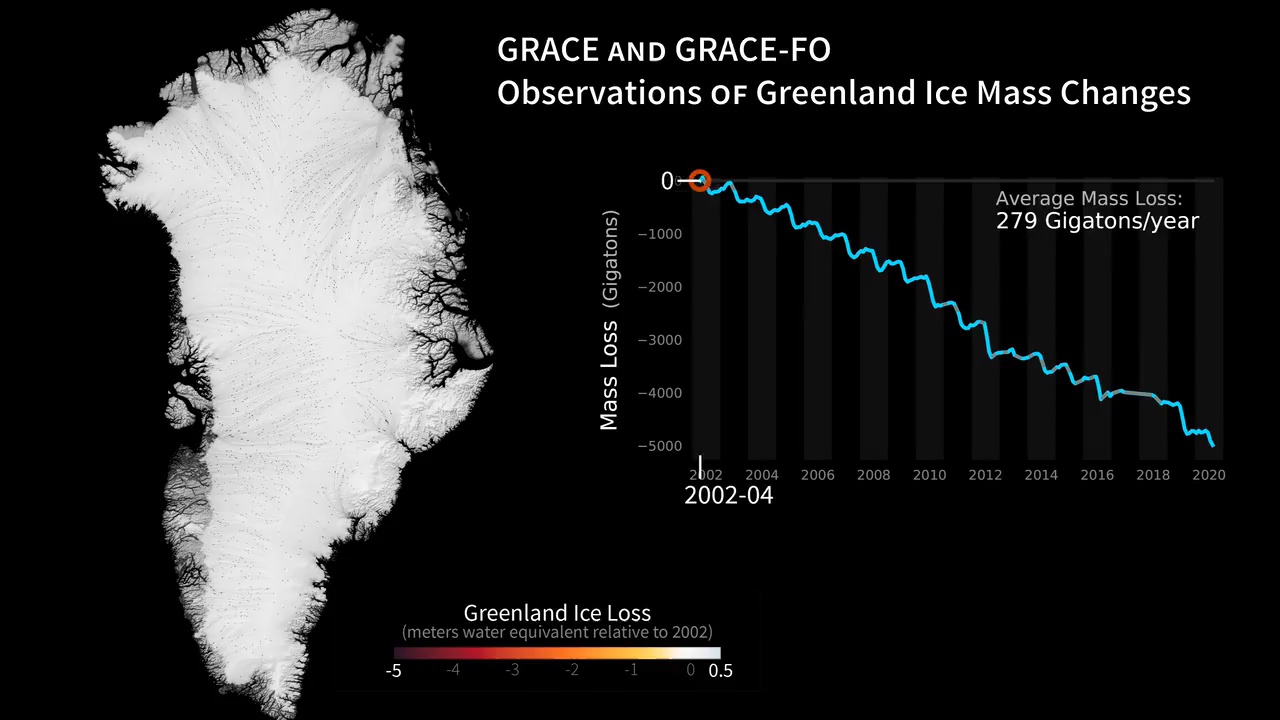 In many ways, the ten-year evolution of the landmark collection Ant Spider Bee: Chronicling Digital Transformations in Environmental Humanities [
Coulter, Hardenberg, and Jørgensen 2021(a)
] parallels the development of DEH. The open-access book is the outcome of the eponymous blog begun in 2011 "to collect and reflect on ways technology was transforming the epistemologies, methods, and dissemination of environmental humanities research" [
Coulter, Hardenberg, and Jørgensen 2021(c)
, p. 10]. Both the book and the blog demonstrate the ongoing interweaving of EH and DH theories and methods within the DEH nexus. Published by the Rachel Carson Center for Environment and Society — as noted, a leader in DEH globally — the collection comprises forty-two short, reflective chapters arranged in five sections:
Evolution
Engagement: New Voices
Mediations: New Forms
Metamorphoses: New Natures
An Experiment in Collecting and Curating
The editors characterize the Ant Spider Bee initiative — from its origins as a blog to its present dissemination as a book — as an experiment in long-term collecting and curating. Cognizance of the longue durée and, by extension, deep temporality, underlies the project's ethos of curation: "As the use of digital technologies to gather and process knowledge becomes increasingly natural, we hope that
this digital time capsule
will offer insights about the past, for the future" [
Coulter, Hardenberg, and Jørgensen 2021(b)
, p. 229] (emphasis added). As suggested in the following discussion of perennial eco-archiving and, specifically, the work of The Long Now Foundation, a deep temporal outlook is integral to the digital environmental humanities.
Perennial Eco-Archiving: Deep Time Awareness and the Longue Durée of DEH
Anthropocene Narratives of Loss, Recovery, and Hope: Engendering Affect
Citizen Ecohumanities: Crowdsourcing, Community Co-Production, and DEH
Human-Plant-Environment Relations: Digital Stories from the Botanical Humanities
The study of human-plant-environment relations historically has been the domain of ethnobotany. Leveraging social scientific methods in researching plants, the interdisciplinary field of ethnobotany examines the material and immaterial — physical and spiritual — interconnections between people and flora in places over time [
Balick and Cox 2020
] [
Schultes and Reis 1995
]. Since its emergence in the 1890s at the crossroads of botany and anthropology, ethnobotany has focused largely on the classification, uses, and perceptions of flora in traditional, preindustrial societies, especially Native America and Aboriginal Australia. Utilitarian in emphasis, ethnobotany empirically investigates the uses of plant species as foods, medicines, fibers, dyes, materials, ornaments, decorations, and totems. Alongside ethnobotany, over the last decade in particular, the field of human-plant studies — increasingly called "the botanical humanities" — has taken shape through the work of cultural theorists, philosophers, literary critics, ecologists, and biologists [
Ryan 2023
]. Botanical humanists problematize dominant Western characterizations of plant life as the passive, sessile, and silent backdrop to human activities. Scholarship in this area addresses a range of ethical concern, from the social consequences of genetically manipulating seeds to the moral implications of plant sentience for mainstream agriculture.
While clearly embedded in the ethnobotanical paradigm, the Native American Ethnobotany Database, or NAED, also exemplifies the digital environmental humanities — or what could even be called the digital botanical humanities — in practice well before the circulation of the term. Illustrating the values of durability and evolvability in open-access DEH, the project demonstrates the movement from analog to digital archival strategies for understanding human-plant-environment networks and making ethnobotanical knowledge broadly available. Released in the late 1990s in partnership with the University of Michigan-Dearborn, the online repository of Native American uses of plants currently contains around 45,000 data items related to 4,000 plant species and 300 Native American cultures [
Native American Ethnobotany Database 2021
]. Beginning in the mid-1970s, however, the database's earliest components were developed using edge-punched index cards. In 1977, a print-based forerunner of the archive with about 5,000 items was converted to a database management platform known as Taxir and dubbed American Medical Ethnobotany: A Reference Dictionary. Developed over a decade with assistance from the National Endowment for the Humanities, the National Science Foundation, and UM-Dearborn, an expanded version named Medicinal Plants of Native America was released in 1986 by the Museum of Anthropology at UM. This iteration comprised roughly 18,000 items detailing the therapeutic uses of 2,000 plant species by 123 Native American cultures. In 1998, moreover, a book version of the database was published as Native American Ethnobotany [
Moerman 1998
]. Then, in 2003, with the further support of the National Science Foundation, another update became available, linking species in NAED to the U.S. Department of Agriculture's PLANTS Database and enabling users to access photos, distribution maps, conservation status, and other information [
USDA 2021
]. The database's evolution since the 1970s points to the value of multidisciplinary exchange in DEH, for example, in the diverse funding bodies and supporting institutions that have made the project possible.
By highlighting the relationships between North American plants and Native American cultures through an open-access medium, NAED can be understood as a precursor of the digital environmental humanities. The database features culturally-salient tree species such as the Pacific silver fir (Abies amabilis), the traditional uses of which were first documented by ethnobiologist Nancy Turner in the early 1970s. In total, NAED enumerates twenty-seven uses of A. amabilis by seven cultures. The Bella Coola people of British Columbia, for instance, applied Pacific silver fir as an eye medicine, gastrointestinal aid, throat aid, and tuberculosis remedy, whereas the Oweekeno used the tree as a medicine for colds. Each entry lists the scientific name, common name, plant family, use category, and use sub-category for each species along with notes such as "liquid pitch mixed with mountain goat tallow and used for infected eyes" in reference to the Bella Coola treatment of eye diseases with Pacific silver fir. As a research tool, NAED supplies complete bibliographic details for each entry's source, guiding users seeking further ethnobotanical information about particular plants and cultures. By clicking the hyperlinked names "Bella Coola" and "Oweekeno", moreover, users can access all species with recorded uses by these cultures.
The case of the Native American Ethnobotany Database underscores the potential for DEH to engage with new technologies — including pre- and post-digital forms — an issue also raised in our discussion of perennial eco-archiving and the work of The Long Now Foundation. The platform Mukurtu, for instance, is a community-driven content management system that enables Indigenous communities to preserve and disseminate their digital heritage in keeping with cultural protocols. In response to worldwide movements toward decolonization and reconciliation, Mukurtu presents a dynamic digital environmental humanities tool for managing ethnobiological data and extending the ambit of longstanding databases such as NAED [
Christen 2019
]. Notwithstanding its accessibility, adaptability, and durability, NAED presents a non-participatory mode of telling stories about the botanical world. Furthermore, the project reinscribes the historical authority of ethnobotany as the foremost scholarly paradigm for understanding human-plant relations and, specifically, the culturally-sensitive botanical knowledge of Indigenous people. As a counter example, Herbarium 3.0 offers a user-based platform for disseminating stories of plants, people, and places by pairing "historical herbarium specimens with contemporary stories about plants to […] restore the layered histories of plant-human interactions" [
GeoHumanities 2018
, ¶3]. Reimagining the herbarium tradition of botanical science as interactive and open-ended, Herbaria 3.0 is a collaboration between plant biologists, environmental humanists, and researchers in science pedagogy designed to foreground the significance of vegetal life in an era of climate disturbance and species dislocation. As the organizers remark, "these stories can draw our attention to the intertwined nature of human-plant relationships. Turning to these relationships helps us to remember plants and reconnect with them, acknowledging the pivotal role plants play in our lives" [
Herbaria 3.0 2021(b)
]. Toward this aim, narratives are organized into three categories: Story Garden, Stay-At-Home Stories (with a pandemic focus), and Root Stories. The Story Garden Map depicts the geographical distribution of stories, the majority of which are located in North America. The entry consulted, "Musing from Under a Moss Leaf", dated June 17, 2021, uses a specimen plate of the common hair moss (
Polytrichum commune
) from the Oxford University Herbarium as a starting point for meditating on the evolutionary and ecological importance of this diminutive species. Overall, however, Herbaria 3.0 appears underpopulated — its potential not yet realized — calling attention to the critical issue of sustaining public participation in DEH initiatives over time.
Conclusion: Bolstering the Digital Environmental Humanities
The strains elaborated in this article — perennial eco-archiving, Anthropocene narratives of loss, citizen ecohumanities, and human-plant-environment relations — illustrate the range of work currently falling within the scope of the digital environmental humanities. Whereas projects such as Herbaria 3.0 and the Atlas of Living Australia engage members of the public centrally as knowledge-bearers and knowledge-contributors, "The Clock of the Long Now", Native American Ethnobotany Database, and others largely preclude community participation. This section offers some recommendations for bolstering DEH's critical capacity by democratizing biocultural knowledge via community-responsive, narratively-based, transdisciplinary strategies. In embracing diverse theories and practices, DEH brings decolonial, arts-based, and practice-led models into dialogue with qualitative and quantitative approaches.
As an inclusive scholarly-activist framework, DEH calls attention to ecological concerns at DH events, and, conversely, digital issues at EH events. This could entail establishing digital environmental humanities working groups or special interest groups within professional structures, including, for example, the Alliance of Digital Humanities Organizations (ADHO) and its Constituent Organizations. Equally, digital working groups within leading environmental humanities organizations such as the American Society for Environmental History and the Association for the Study of Literature and Environment would reinforce digital concerns and awareness throughout different areas of EH. Increasingly inclusive and activist in emphasis, DEH is well-positioned to continue to address Anthropocene urgencies while imagining possibilities for human and more-than-human flourishing.
Acknowledgements
John C. Ryan acknowledges funding from the Biodiverse Anthropocenes program, the University of Oulu, and Academy of Finland Profi6 336449.
Works Cited
This work is licensed under a
Creative Commons Attribution-NoDerivatives 4.0 International License
.