DHQ: Digital Humanities Quarterly
2021
Volume 15 Number 3
Learning Digital Humanities in a Community of Practice: the DEAR model of Postgraduate Research Training
Abstract
To date, there has been relatively little discussion of how the UK doctoral funding landscape shapes digital humanities pedagogy for postgraduate research students. This article sets out to address this relative lack, by introducing the inter- and multi-disciplinary context in which many students in the UK work. We examine the phenomenon of students who are not necessarily interested in becoming DH practitioners, but have identified DH as a knowledge gap in their own disciplinary practice. Such a realisation changes the nature of the learner within DH communities of practice, requiring a different form of learning.
This study therefore explores learning within a community of practice, the inter- and multi-disciplinary space in which digital humanities practitioners operate. First, drawing on the diverse disciplinary landscape, it highlights an individual's learning journey through self-determined learning (heutagogy). Second, it outlines an idea of digital humanities pedagogy for postgraduate research based on current frameworks of digital literacies and broader researcher development in the UK, framing research activity as learning. Third, it presents the DEAR model for learning and teaching design, which is based on four principles: Diversity; Employability; Application; and Reflection. Finally, it provides an evaluation of the DEAR model in the context of one UK Doctoral Training Partnership (DTP). It contributes to understanding of pedagogical practices for doctoral-level DH training and provides a set of recommendations for instructors to adopt and adapt these pedagogical principles in their own programmes.
Introduction
Digital humanities was immediately identified as a priority area and regarded as an essential element in the training opportunities offered to CHASE students. During this period, the CHASE institutions displayed varying degrees of involvement with digital humanities, ranging from the foundation of a multimillion-pound centre (the Sussex Humanities Lab, launched in 2015), to the appointment of individual digital humanities staff (Open University, East Anglia, Essex, Kent), to research and teaching events on specific sections of DH or adjacent areas (such as Digital Media at Goldsmiths, Digital Literary Studies at Birkbeck, Digital Art History at the Courtauld). In none was digital humanities an established part of formal undergraduate or postgraduate curriculum, though more informal training opportunities were developed during the life of the consortium. While making it difficult for any single institution to sustain a digital humanities training programme on its own, the diversity of approaches and expertise present within CHASE had the potential to provide a rich and diverse corpus of teachers.
This article introduces a new model of DH pedagogy (the DEAR model) and uses the example of the CHASE Arts and Humanities in the Digital Age (AHDA) programme in the context of the UK DTP framework. The AHDA programme was launched in 2015 by an interdisciplinary team led by The Open University and the University of East Anglia. It was allocated £15,000-£20,000 per annum by the CHASE Training and Development fund to cover staff and student travel, seminar organisation and a certain amount of staff time, with additional staff time provided as an in-kind contribution. It concluded with the end of the first phase of CHASE in Summer 2019, after having trained over one hundred students.
There have been previous approaches to training provision in digital humanities for research students. The Arts and Humanities Research Council (AHRC) funded an initiative for doctoral students in the UK called Collaborative Digital Research in the Humanities (CEDAR) (2008-2010). It had three main aims:
We will therefore consider how DH training might be embedded within a student's broader learning journey with reference to the CHASE AHDA programme. First, we will analyse how self-determined learning and working within a community of practice combine in DH pedagogy to support heutagogical learning in DH. Second, we will define digital humanities pedagogy in the context of postgraduate researcher training. Third, we will introduce our model, the DEAR model, based on abstracted principles from the applied pedagogy that could be adapted to account for locally informed pedagogical practice. These principles are: Diversity; Employability; Application; and Reflection. Fourth, we will demonstrate and evaluate how we have instantiated the DEAR model into the CHASE Arts and Humanities in the Digital Age (AHDA) training programme. In doing so, this paper will make a significant contribution to our understanding of pedagogical practices for doctoral-level DH training by reflecting on how the DEAR model can be adapted to other contexts, and provide a set of recommendations for doing so.
Learning in a Community of Practice
The introduction of the DTP2 funding round (2019-2024) is changing the funding context, making this an opportune moment to reflect upon DTP1. We therefore aimed to provide a snapshot of the UK digital humanities provision at a time that coincided with the end of the DTP1 five-year funding cycle. In June 2019, we surveyed data from FindaMasters and FindaPhD, two of the most commonly used search websites for postgraduate programmes. The syllabi of these MAs/PhDs were not examined, meaning that this data refers only to programmes that explicitly mention DH. Of 350 advertised MA programmes, eleven could be identified as digital humanities. Of twenty PhD studentships, only one mentioned both "digital" and "humanities." It is worth noting that most PhD scholarships are advertised in the period October-December, so we conducted our survey during a time when fewer opportunities would be on offer. However, even this survey suggests that digital humanities are not explicitly mentioned in the majority of the programmes listed in the most widely used MA/PhD search websites. Our brief analysis also flagged up different terminologies, levels of self-identification and organisational alignment with digital humanities, coupled with conflicting definitions of the field.
Another significant result of our survey was the geographical distribution of these programmes. Of the eleven MAs advertised, eight were based in London, with the rest of the country, especially England, being severely underrepresented (one course was offered in Scotland and one in Wales). Only four of the eleven DTPs were included in the offer of MA and PhD programmes in DH. Overall, this suggests that DH is rarely the main focus of postgraduate learning in the United Kingdom. As a result, it is important to reflect upon the challenge of providing DH training in a multidisciplinary environment where students' primary focus is at the subject level. Whether English Language and Literature, History, or Art and Design, many students ground their training needs first and foremost within their own disciplinary context. It is therefore important to their development to understand how disciplinarity has been addressed within the digital humanities.
Inter/multidisciplinary
Digital Humanities and Self-Determined Learning
Many of our students on CHASE AHDA have been more focused on their individual learning journey. Indeed, the programme has welcomed the full spectrum of attendees from those who intend to pursue DH-related careers, to those with an interest in learning more about the field, through to those who are solely interested in how to operationalise and understand specific DH competencies in their own work. This means that individuals must learn about the methods and tools that are available to them, how they individually relate to DH, and how that influences their own learning. We turn here to the literature on self-determined learning to propose that it must sit alongside community-driven active learning in order to maximise the benefits to participants from diverse backgrounds. Our model for CHASE AHDA thus emphasises two key points: self-determined, reflective learning, and scaffolding of sessions via active learning and groupwork. As we will outline here, this allows learners to create their own learning communities, not as spaces for research practice, but as networks to facilitate and support their own individual learning approaches. To this end, the concept of heutagogical learning has been largely underexplored in relation to DH pedagogy.
As such, while DH emphases the collaborative, the interdisciplinary, and the community-driven aspects of its praxis, its training is often centred on a self-determined journey of discovery. Stories abound of the autodidact in DH, the individual who was forced to teach themselves due to a lack of external training. There is an element of necessity in this – while many aspects of method, approach, even theory, can transfer across the disciplines that represent the DH community of practice, a new entrant is faced with the challenging prospect of working out how to apply these myriad contexts to their own work. It is therefore essential for them to be given the space to reflect upon their own journey, to adopt a heutagogic approach to their learning that helps them to shape and decide their level of engagement with the research-focused community of practice that sits a step beyond the methodological commons of DH practice situated within various disciplines.
Yet, as DH training becomes an ever-more embedded, but sadly under-theorised, area of focus for the community, the question of how to balance the needs at the various points of the learner spectrum becomes a highly pressing concern. As the following section will indicate, the framework outlined here gives us a structure upon which we, as professionals with DH-related positions, might leverage our broader understanding of the field in a way that promotes the self-determined model of learning that is necessary to support a diverse body of learners.
Digital Humanities pedagogy in the context of postgraduate researcher training.
In addition to the tension between collectivism and individual direction in research practice, there is a further layer of complexity as this takes place within specific higher education structures. The increased formal presence of DH in universities and DTPs has an influence on who attends certain training programmes. Where there is a strong local presence of DH, students are likely to use that provision first, as opposed to a cross-institutional programme provided by the DTP.
In many ways, universities and digital humanities teachers can draw on a digital literacy framework in the UK to structure their approach, but the functional skills, such as learning Python syntax to extract textual data from different source files (ICT literacy), are not in isolation training in digital humanities.
The challenge for those in the UK who support doctoral researchers is to develop these digital literacies across a range of disciplines and fields at a research level, rather than embed them in undergraduate programmes.
Konkol's point here is that this distinction is false. Digital humanities work entails learning, (few researchers begin research fully-equipped to undertake it) and students can learn through involvement in and contribution to real-world projects: this is how a digital humanities pedagogy is applied. In short, and in the applied context of research training, we have taken digital humanities pedagogy to mean digital humanities combined with digital pedagogy.
The CHASE AHDA programme
This section demonstrates and evaluates how the principles of the DEAR model were instantiated in the CHASE AHDA programme. The programme was enabled by a yearly grant from the CHASE Training and Development Group, which was allocated each year during the period 2014-2019 through a competitive bidding process. The grant covered staff travel and subsistence while teaching on the programme, catering for staff and students and honoraria for a small number of external speakers. Staff time and room use were provided as an in-kind contribution from CHASE member institutions. No charge was levied for enrolling in the programme, but students were responsible for their own travel costs, except for overnight accommodation at residential workshops, which was covered by the yearly grant. Students who received their doctoral scholarship from CHASE had access to a £1,000 individual research allowance, which they could employ to travel to the course workshops.
The first iteration of AHDA in 2014/15 experimented with a multi-site approach based on independently-held seminars on a number of Digital Humanities subjects, which experienced quite variable levels of attendance. While each seminar provided in-depth training on a given area, the CHASE Training and Development Group remarked upon the lack of a unifying vision for the programme. In order to address these issues, the core AHDA team, led by Francesca Benatti (Open University), Matthew Sillence (University of East Anglia) and Paul Gooding (then University of East Anglia) decided from 2015/16 to provide a more directed programme delivered in one centralised and easily accessible location, The Open University in London regional office. After Paul Gooding's move to the University of Glasgow, David King (Open University) joined the core AHDA team for the 2018/19 academic year.
The emphasis of the revised programme was to provide a more coherent structure with clearly defined outcomes in terms of employability skills, allowing space for the application of DH research skills within a short project. At the same time, students would be invited to reflect upon their degree of participation in the digital humanities community, taking into account the diversity of their backgrounds and goals. The structure of the course was therefore revised and rebuilt around
a three-day residential winter school (December or January)
four one-day methods-based workshops (January - April)
a two-day mid-project residential (March)
a final plenary session (April or May)
Below we assess how the programme employed the DEAR pedagogical model to achieve its outcomes within the remit provided by the CHASE DTP.
Winter School
The 2014/15 iteration of the AHDA programme had shown the promise and challenges of digital humanities training. Following informal consultations in 2015 with Digital Humanities colleagues and with the CHASE Training and Development Group, it was decided to open all following presentations of AHDA with a three-day residential Winter School, which took place in December or January. The aim of this intensive residential opening was to enable the students to reflect upon their prior knowledge of Digital Humanities and their expectations for the course. In addition, a venue was provided for students to begin to consider their desired degree of participation in the digital humanities community. A public blog was maintained for each year, providing information on programme details, booking links, and access to learning materials
[3]
. Over its four iterations, the Winter School was attended by fifteen to twenty-five students each year, with numbers capped at twenty students per programme from 2017/18 onwards. The event consisted of
a plenary lecture by leading CHASE Digital Humanities scholars
a number of introductory 2-hour seminars from the AHDA core team and from the teachers of the subsequent workshops, including

Digitisation and metadata
Text analysis
Data visualisation
Image analysis
Threshold concepts as a critical learning framework
Project management

a final student-led "unconference" focusing on the practical group project that would form the main application of their learning
The residential school format has widespread precedents in Digital Humanities pedagogy, such as for example the Digital Humanities Summer Institute (DHSI)
[4]
and the Digital Humanities at Oxford Summer School (DH@OxSS)
[5]
. For the AHDA programme, it was found to offer considerable benefits but also some significant disadvantages, due to the diversity of the student population. An intensive, face-to-face experience allowed the students to participate in a more in-depth introduction to the variety of Digital Humanities approaches. Additionally, it permitted students from different universities and departments to develop connections based on common or contiguous interests, building a sense of membership in a shared student cohort. Finally, it was central to the definition and allocation of group projects, which formed a central part of the application of the students' learning.
The four iterations of the Winter School confirmed the validity of this approach but also highlighted its exclusionary impact on certain categories of students, with the potential to negatively affect student diversity. Specifically, students with disabilities, caring duties or additional commitments (for example, those undertaking part-time study) were found to experience difficulties in attending the Winter School or in committing to its full duration. Mitigation strategies were gradually put in place and included the prior circulation of teaching materials and handouts, culminating finally in the video capture of the directed teaching component of the School from 2017/18 onwards. However, the seminar-style discussions and group-based exercises could not be captured for data protection reasons.
Contents were pitched at an introductory level, assuming no prior familiarity with Digital Humanities methodologies and debates. The diversity of the student cohorts was the main reason for this choice. While CHASE is a specialist Art and Humanities partnership, student backgrounds were nonetheless quite disparate, including a range of subjects such as digital humanities, musicology, practical digital arts, social sciences, literature, art history, history, visual arts/visual anthropology and media studies.
Figure 5
groups them on the basis of the UK Research Excellence Framework (REF) Units of Assessment
[6]
.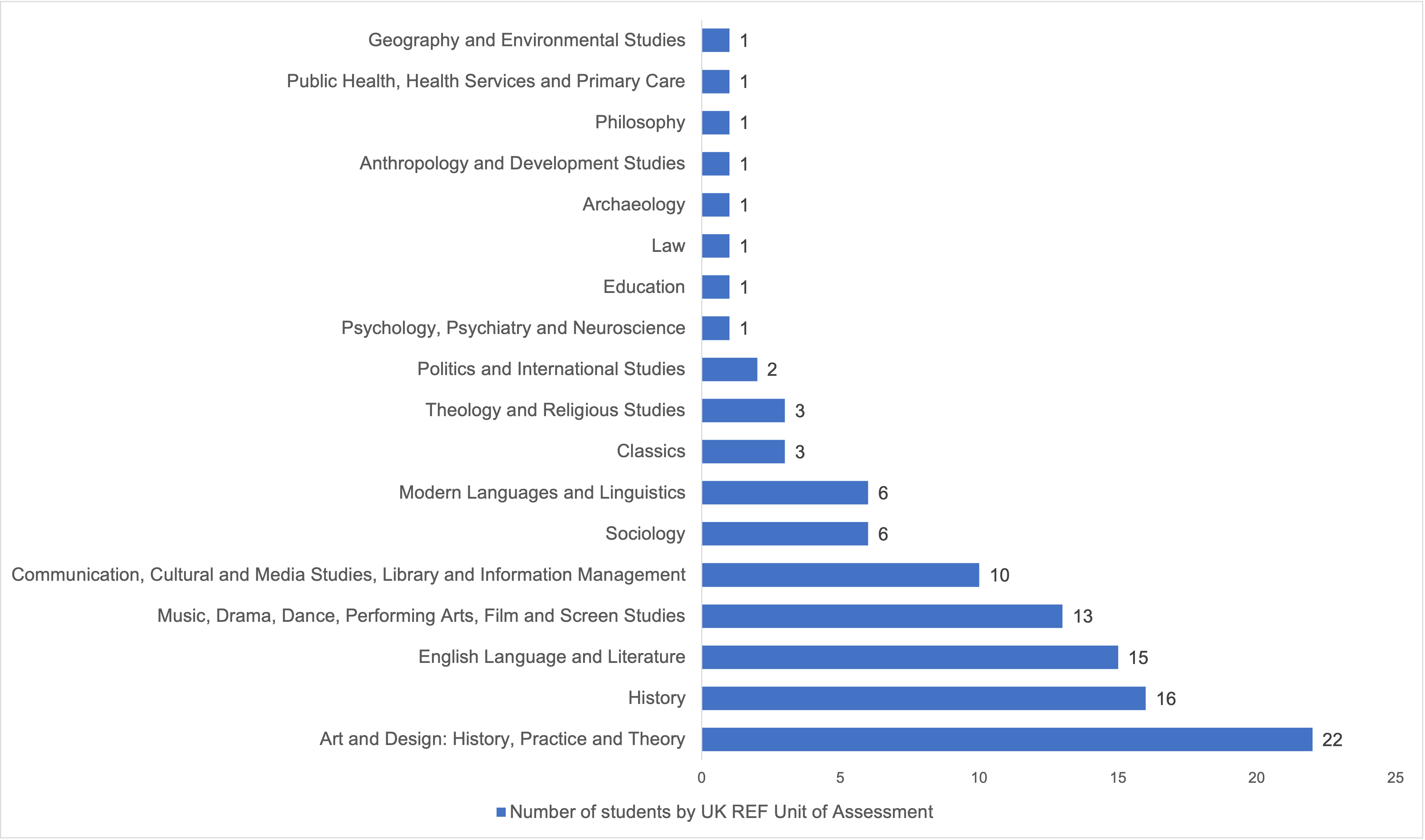 Though a growing number of students joined AHDA because of an interest in digital media and culture, over the five iterations students presented with variable levels of digital skills, ranging from programming to video editing to basic digital literacy skills. Rather than force the more novice students to catch up on their own, the Winter School was designed to develop a common basis through intensive training. Topics discussed included what were labelled "the building blocks of Digital Humanities:" digitisation and metadata, basic text analysis and web authoring. All topics were taught in two-hours sessions, which included both a lecture and a practical applied component through in-class exercises. The exercises, carried out in small groups, offered a first chance for students of different prior skill levels to enter into a dialogue and begin to collaborate.
Transferable skills for employability were further developed with the introduction of a session on project management from 2017/2018 onwards. According to a recent report, unlike their colleagues in STEM, UK Arts and Humanities PhD students are less likely to be motivated to undertake doctoral study by the opportunity to develop transferable skills [
Bennett 2020
], despite the fact that roughly 75% of those who move into non-academic careers undertake non-research roles [
Hancock 2020
]. The CHASE AHDA team therefore viewed it as essential to introduce students to the skills that could be mapped to Domains C and D of the Vitae Researcher Development Framework, especially around Research Management (C2) and Working with Others (D1) (see
Figure 3
). A half-day project management workshop was delivered in collaboration with the British Library, one of the CHASE non-academic partner institutions, and by CHASE team members with project management expertise. In 2019, we also partnered with the Royal Society, the School of Advanced Studies, and digital consultancy company Digirati to provide a workshop to evaluate the Science in the Making platform, where students worked alongside cross-sectoral partners to support further development of the user interface and functionality of the resource.
[7]
A significant reflective element was provided by a session on threshold concepts, which asked the students to consider the motivations and modalities of their learning journey [
Kiley and Wisker 2009
]. Through threshold concepts, students were asked to examine the process of learning, focusing on their expectations of transformative and integrative enhancement to their education through their participation in AHDA [
Berman 2013
]. The decision to include this component was led by research showing the benefit of aiding students in the development of an explicit conceptual framework to support doctoral learning [
Berman 2013
]. At the Winter School, students were asked to define their research problems and to organise their research design for the upcoming group or individual project, with further assessments of their implementation and their conceptual conclusions in the middle and at the end of the entire AHDA programme. They were also asked to situate their participation in AHDA within their broader learning and career goals.
The Winter School was designed to allow the students to combine an individual learning journey with taking the first steps into a digital humanities community of practice. After the 2016/17 academic year, teacher-led plenary sessions were replaced with presentations from AHDA alumni who evaluated the programme and its impact on their employability, for example by enabling them to join Digital Humanities projects as interns or team members. This heutagogical approach culminated in a one-day student-led "unconference," during which students were asked to propose a research project, usually focused on their own research interests, and to pitch it to their fellow students. Votes were then cast to choose which four projects would be developed during the remainder of the AHDA course, with students choosing which project group to join. AHDA team members then provided the students with advice on methodologies and resources for their projects.
While this process enabled students with more developed plans for their learning journey to expand them through the help of their peers, feedback collected over the first three iterations led to the introduction of individual projects. The latter were found to enable greater dialogue between the interdisciplinarity of Digital Humanities methods and the diversity of the students' disciplinary backgrounds and interests. This grounding in the students' own priorities helped them to remain motivated for the duration of the programme and to assess the relevance of their learning to their future employability. The initial presentation and the subsequent iterative refinement of the project ideas through peer and teacher feedback were retained even with the individual projects approach.
Follow-on workshops
After the Winter School, students had further opportunities to self-direct the course of their learning. Between 2015/16 and 2017/18, students were able to choose between two and four one-day workshops, held face-to-face over the course of three months (January to April). The syllabus as initially proposed aspired to provide an overview of the main areas of Digital Humanities research as as reflected in the expertise present within scholars from CHASE and the British Library, who delivered workshops on the following topics:
Text Analysis for History and Literature
Digital Images and Digital Art History
Databases
Information Visualisation
While the topics above were appreciated by the students, they were not equally relevant to all of the students' diverse disciplinary backgrounds and to all of their employability goals. This element of self-direction led to an excessive dispersion of a small student cohort, with certain seminars being poorly attended. More broadly, it reduced the development of a common grounding in digital humanities methods and perspectives.
The emphasis of the AHDA programme shifted gradually from teaching discrete topics into preparing the students for employability as digital researchers either as individuals or as part of a group. The 2018/19 programme focused therefore on guiding the students through the development of their own research project, providing workshops on the following interdisciplinary skills:
Data cleaning and management
Introduction to Python
Network Analysis
Information Visualisation
Each workshop included a taught element, presented by a subject specialist, and a practical afternoon session, where students applied what they had learnt to their individual projects and data. This hands-on session enabled students to ask and receive advice from the AHDA team, who were also available outside of the workshops through virtual office hours. The diversity of the student cohort resulted in all students being able to make contributions to the discussions and exercises on the basis of their disciplinary and personal background, such as having experience of working in cultural institutions, being skilled in a programming language, or being familiar with certain media types.
Mid-project residential
Another residential event was organised midway through the AHDA programme, usually in early March. Students and the AHDA team met for two days to
report on project progress in 10-minute individual or group presentations
receive feedback and "feed forward" advice from instructors and peers
develop transferable skills in web authoring and dissemination
The mid-project residential allowed students from different institutions to meet face-to-face and to reflect on the progress of their group project, receiving further feedback from teachers and peers. After the shift to individual projects, the focus of this second residential moved to short presentations on ongoing progress and challenges, and on the provision of "feed forward" advice, helping the students to plan the next steps in their research [
Hattie and Timperley 2007
]. For both group and individual projects, the second residential had the aim of increasing the opportunities for cohort-building and collegiality among students and teachers. It also helped to reinforce important employability skills, such as communication (through presentations on the progress of their project), critical thinking (by providing "feed forward" on other students' work) and problem solving (by sharing suggestions for development with the other students). Finally, it provided additional opportunities for reflection and evaluation.
Final presentation
The concluding learning event took place in late April and consisted of presentations on the group (or individual) projects, discussions on the projects and an extended feedback session where students expressed their views on the entire AHDA programme. Sample group projects included mapping medieval miracles, visualising Early Modern printing networks and building a survey and database of favourite songs. Individual projects included performing text analysis on mailing lists and forums, classifying music reviews, visualising the social networks behind a museum collection, analysing the language of newspaper articles and of official reports, and building a language corpus.
In the student presentations and discussion, emphasis was placed on process and reflection, rather than on notions of "success" and "completion." Reconnecting to the threshold concepts session at the Winter School, students were asked to reflect on their research journey, highlighting both milestones and difficulties. The importance of careful project planning, of documenting each step of the research process, and of a clear division of tasks within a team were among the most frequent items to emerge from this reflection phase. Students were also encouraged to consider the applicability of what they had learned within their doctoral research and their envisaged future employment opportunities. Several students, for example, declared the intention to include their AHDA project as part of seminar presentations, articles and dissertations, or to further their participation in the digital humanities community through, for example, further involvement in DH initiatives such as summer schools or DH seminars and centres in their home institutions.
The AHDA feedback sessions provided the team with essential information to develop and adjust the programme over the years in order to better understand the training needs of the students and respond to them. For example, the shift from group to individual projects was motivated by consistent student feedback, which highlighted the shortcomings of the group approach. Collaboration is a central tenet of digital humanities, which is often manifested in multi-disciplinary project teams and programmes. However, the constraints of the AHDA programme made effective groupwork difficult. Students were based in different institutions, often separated by significant geographical distances. Moreover, they were often at different points in their doctoral student journeys, ranging from first year to thesis submission. Hence, the other demands on their time varied considerably. Finally, they had different levels of commitment to the projects, especially where the fit with their disciplinary background was poorer, and different degrees of participation in the digital humanities community.
In order to recognise this diversity within the student cohort, the AHDA team agreed therefore to move to individual projects, refocusing the group work objective through the "feed forward" and feedback sessions in the mid-project and final workshops. The team were impressed by the students' development of informal support networks, for example through a WhatsApp group, and their engagement in independent exchanges of expertise, resources and advice. The vast majority of the goals of the previous group projects were therefore fulfilled through a self-determined asynchronous contact strategy.
Conclusion: Evaluating the DEAR Model in AHDA
This article has used the CHASE AHDA programme as a case study to consider how DH training might be embedded within a student's broader learning journey. We have analysed the roles of self-determined learning within DH communities of practice, and defined digital humanities pedagogy in the context of postgraduate researcher training. Based on this critical framework, we have introduced the DEAR model for DH learning and teaching, based on four abstracted principles that can be adapted to account for locally informed pedagogical practice: Diversity; Employability; Application; and Reflection. Finally, we have evaluated how we have instantiated the DEAR model into the CHASE AHDA training programme. This conclusion provides a set of reflections upon the extent to which DEAR has been successfully implemented in our programme, and recommends key priorities for those looking to adopt it in their own pedagogical practices. In doing so, it demonstrates the potential for DEAR to act as an adaptable framework upon which to shape local multidisciplinary training in digital humanities.
Diversity
The AHDA programme has certainly embraced the diversity of its candidates, originally in attempting to address the disciplinary interests through historical and literary texts, social media, social and economic data and visual and aural media. Although this may reflect the disciplinary demographics of postgraduate research in DTPs such as CHASE, it proved difficult to anticipate each year, and therefore more challenging to cover with our teaching staff.
In terms of diversity in skills and competencies, AHDA has been able to establish an entry-level approach, which has clearly benefited the majority of postgraduate researchers in being accessible. This was, however, more problematic for students working on group projects. In these cases, students with pre-existing knowledge and higher proficiency in certain methods or techniques were more likely to adopt technical roles within their groups. This limited the opportunities for other members to develop comparable skills.
Writing this in an ongoing pandemic, the question of remote attendance is at the forefront of everyone's mind, but virtual or mixed seminars are a possibility for widening participation regardless of wider issues. They offer the opportunity to support diverse student needs, such as those who have personal or professional commitments that prevent them from taking part in residential programmes. This approach would have to be combined with a reevaluation of the programme's goals and structure.
Employability
Many candidates on the AHDA programme were motivated by their own projects, i.e. the PhD itself. The initial focus on group projects was intended to reflect the collaborative nature of work in digital humanities, but this was not limited to preparedness for an academic career. The involvement of key partners from the UK GLAM sector was both a DTP strategic commitment, but also in recognition of the various career trajectories of doctoral candidates.
Where engagement with employability has been most successful is undoubtedly when representatives of the GLAM sector and project managers have been involved. These contributors have repeatedly highlighted the importance of institutional responsibilities, such as risk management, openness and scalability. Although candidates could use the AHDA experience as evidence of working with institutions beyond their immediate academic community, our programme did not focus on CV-building itself. We have also yet to measure the impact of AHDA on employability longer term. This would require a survey of the AHDA alumni to see if the training helped them in their careers, where opportunities in the academic community are still discipline-oriented. This in turn is heavily dependent on structural factors, such as the short-term funding provided by the DTP. Employability, therefore, is not the sole responsibility of this training, but needs to be part of broader initiatives in the UK addressing mentoring, skills and career diversity. One way forward may be the public scholarship model proposed by
Cassuto and Weisbuch (2021)
, which involves academic knowledge and digital literacies, but also the professional attributes that are frequently deployed - but often implicit - in the GLAM sector [
Rogers 2020
]. The question of employability is an ongoing debate in DH [
Romanova et al. 2020
], for which programmes such as AHDA provide important context.
Application
The heutagogical ethos of the AHDA programme meant that students needed to take individual responsibility for the design, execution and evaluation of a project. In group projects, although the first process involved investment from most group members, the remaining processes depended heavily on a group's dynamic and its diversity.
Consistent motivation and evidencing of learning through design, execution and evaluation can be better defined and observed through individual projects. Their final stage is clearly complemented by an anonymous feed-forward approach, which allows for peer-learning in the absence of a team-based approach.
Reflection
Recommendations for Practice
This article has conceptualised and applied the DEAR model within the context of the UK, demonstrating its success in developing a community of practice conducive to heutagogical learning within an advanced research training programme. However, the model has applicability for other contexts where a highly reflective, self-directed style of learning is suited locally to student needs, including doctoral training programmes internationally. The DEAR approach allows students the time and space to situate digital humanities within their own broader research skills development. As such, we see this as complementary to existing summer and winter schools, which are more focused upon skills development over a compressed time frame. Although we have cited examples of the projects that participants in AHDA have undertaken over the years, this study does not advocate adopting a predefined programme structure. It is the core elements of the DEAR model that are crucial to its success, such as providing time and space within the programme for the heutagogical aspects to be prioritised. Programme design should build out from these core principles, rather than inserting them once a programme is confirmed. For this reason, while team-taught models of DH training, including AHDA, may well use reflection, each of the instructors can benefit from building it in as an explicit value at the design stage.
As a result of running AHDA for several years, we recommend that those implementing the DEAR model pay particular attention to the following points:
Focus on participant projects and individual motivations, in order to scaffold learning and increase engagement with reflective components of the programme. This could be achieved through small group presentations about individual learning aims and, resources allowing, alternative pathways through the programme.
Encourage peer support for the learning around the project, rather than the execution of the project, using group feed-forward and feedback opportunities. For example, students can be encouraged to adopt communication platforms that best suit them, such as WhatsApp, which create a self-moderated back channel that facilitates heutagogical learning outcomes.
Ensure diversity of voices among trainers and support students in developing core knowledge around the nature of data and project management. One approach could be to involve individuals with expertise in project management and interdisciplinary collaboration, such as library, Alt-Ac and industry professionals in roles allied to digital humanities research and infrastructure.
Aim for inclusivity by providing recordings of workshops and preparatory reading materials and exercises. Organisers may want to use a project blog for public outputs or draw on existing local technical resources, such as a virtual learning environment (VLE), where materials cannot be made public. Online learning may also lower financial overheads, but may come with a potential trade-off in cohort development that comes with in-person learning.
The DEAR principles encourage trainers to develop learning environments that support active learning. This might require additional time commitment within the programme; if a course requires six hours of taught sessions, then an additional hour would allow for reflection on learning or application, for instance.
It should be considered that our implementation of the DEAR model was a non-credit-bearing programme, and relied on students and staff meeting several times over a period of four months. Residential programmes carry significant financial overheads, but in our case CHASE invested extensively in AHDA through the Training and Development fund, which may not be true of all programmes. One consideration for instructors is whether the programme is credit-bearing, a core requirement or extracurricular, which has implications for the availability of financial and administrative support. Scalability is also an issue, as we would argue that such an approach inevitably limits the number of participants. As organisers, we felt that a maximum of twenty to twenty-five students allowed for effective delivery of the programme aims and objectives.
If the resources for delivering a full training programme are unavailable, the DEAR model has value as a diagnostic, self-assessment tool in terms of learning design, which can be deployed for instructors who might be building separate course modules in a short programme or by postgraduate researchers and PhD students who need to scaffold their own self-determined learning in DH. Furthermore, it has potential to become a modular, adaptable framework whereby the four components are remixed to fit local learning priorities. In this sense it operates at both the level of the individual and the higher education institution.
Taking into account our findings, we argue that the DEAR model has great value for trainers working in a context where digital humanities skills are required. However to date the DEAR model has only been implemented within CHASE AHDA. We encourage other digital humanities instructors to adopt and adapt the DEAR model to their own educational contexts in order to test its application as a means of framing learning and teaching design within diverse digital humanities communities.
Notes
Works Cited
This work is licensed under a
Creative Commons Attribution-NoDerivatives 4.0 International License
.