DHQ: Digital Humanities Quarterly
2021
Volume 15 Number 3
How to cite this digital edition?
Abstract
Citing and referencing is an important aspect of scholarship as it makes research processes retraceable and transparent. Over centuries citation practices have been optimized for print publications. However, the digital revolution and the increased scholarly output online provide new challenges. For instance, the physical form of the book which was the basis for citation styles in the past is replaces by different types of online resources of which only some resemble books. Another issue is that digital resources on the internet are not as durable as printed books that are distributed in multiple copies in libraries across the world. For scholarly citation this is a problem as a website referenced today, might not be available tomorrow or might have changed its address which is frequently used for referencing.  Editions, in print or digital, are supposed to be stable reference points for scholarly discourse as discussions the scholarly community engages today should still be reproducible in 50 or 100 years – as it is the case with printed scholarly editions from the 19th century. Consequently, assurance of long-term availability of resources and clarity of how and what to cite in a digital edition is vital. That the lack of providing this kind of assurance and information makes online resources less attractive for citation has been shown in a recently published survey using as a case study British History Online and Early English Books Online. The survey assessed if researchers prefer to cite print or digital resources and the results indicate that there is still a very strong "culture of non-citation" of electronic resources among students and researchers in the humanities. The authors of the study suggest that creators of web content can contribute to facilitate the citation of digital resources by providing recommendations on how to cite a resource and by having a solid permalink strategy [Blaney and Siefring 2017, 46–7].The following study tries to explore this topic further. After a brief introduction and discussion of the key issues of digital citation such as "broken links" and strategies to provide persistent identifiers for the citation and access of online content, the results of a survey of 100 digital scholarly editions will be presented. The survey focuses on citation recommendations provided and permalink strategies used by digital scholarly editions. In this context the paper will look at how permalink/PID strategies and citation recommendations can make digital editions better citable. A closer look will be taken at citation recommendations of selected editions in order to highlight possible solutions.
Introduction[1]
Editions, in print or digital, have a prominent place in humanities research as they make primary sources accessible and are the foundation for scholarly argumentation in many disciplines. Allowing the unambiguous citation of an edited text is an important task of a scholarly edition since it makes research processes retraceable and transparent. This has not changed in the digital age, however, despite the digital medium posing new challenges for editors and users of scholarly digital editions (SDE) alike.
The first quote from the catalogue is concerned with the possibility to extract suitable bibliographic data to cite an SDE correctly. It is important that the SDE should be identifiable in the same manner as traditional print publications. However, besides traditional bibliographic data such as the title, editor(s) and date of publication, the version or the date the digital object was last changed is also indicated and the Internet address is important for citation too. Two other crucial aspects of digital editions are mentioned in the second quote: does the SDE use persistent identifiers and does it provide citation guidelines for users? Print editing knew similar concepts: updated versions of a book are published as second, third and further subsequent editions, the ISBN is recognised as a persistent identifier and the title page as the location where all the bibliographic information can be found. When looking at digital editing however, updating an edition, providing persistent identifiers and bibliographic data for citation are not handled in a similar manner and pose new challenges.
The quantitative analysis of the collected data will show developments that are, hopefully, not only representative for this sample, but applicable to the wider SDE community. In addition to the quantitative analysis, various citation strategies applied in different editing projects will be illustrated by taking a closer look at some of the editions in the list. The goal is to identify developments/strategies that are frequently used and which also appear to have proven value as effective solutions.
Sampling strategy and data collection
Patrick Sahle defines SDE as "scholarly editions that are guided by a digital paradigm in their theory, method and practice" [
Sahle 2016
]. Following his own definition, Sahle has compiled a catalogue of 670 editions over the last two decades.
[7]
Sahle included several important properties of the catalogued editions and some of them, such as date, subject, language, and the category "Edition source period," were used for analysis purposes in this research. Figure 1 shows the distribution of these categories across Sahle's catalogue. However, at the time of writing this article, the catalogue included only occasional information about the availability of permalinks or citation information (for 85 editions). Therefore, all 670 editions had to be inspected to collect relevant data to assess their citability.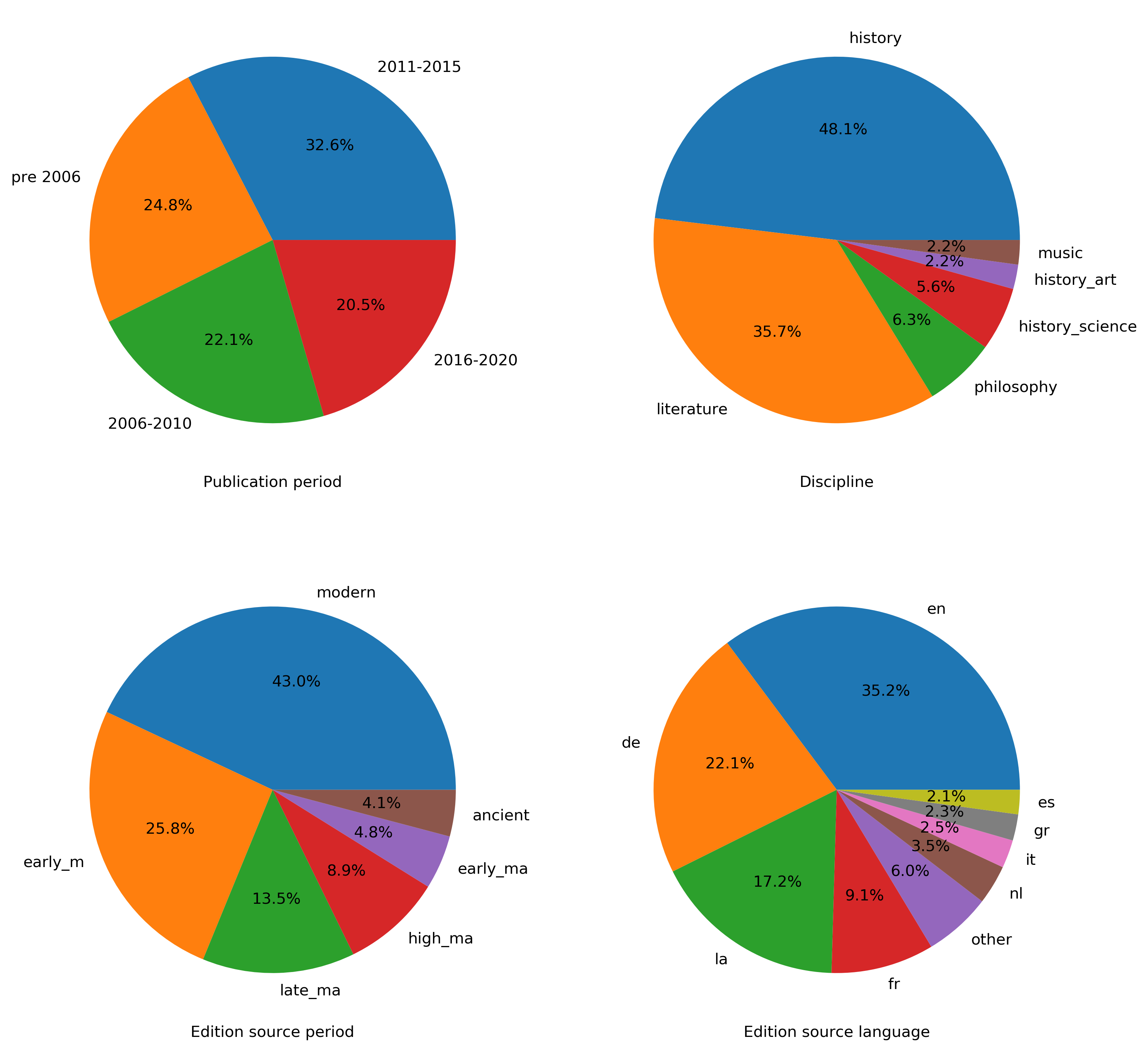 The study of a temporal development was desired as an original assumption of the author was that more recently developed editions show a greater awareness for issues of citation and more frequently use permalinks or PIDs for their resources. However, there are two main problems in trying to assign a date to a digital edition. First, some digital editions do not clearly state a date of publication. In print publishing it is standard to have a date of publication printed either on the title page or on its reverse side. Digital editions do not always provide an official publication date, some provide a period of time when the edition was under development, but already available as alpha or beta version, and a few digital editions do not publish any dates or include only vague information about their development. Second, digital editions may have changed over time (and indeed many did) and their interface and structure might have looked different ten or fifteen years ago. Consequently, a "How to cite?" page or a citation info pop-up may have been added more recently and may not have been present in an earlier release of the edition. To balance these issues and to facilitate a temporal comparison, the author divided the time between the 1990s (the period of development of the earliest edition in our data set) and 2020 into four periods: pre 2006, 2006-2010, 2011-2015, and 2016-2020. Each edition was assigned to one of these four periods depending on the publication date listed in Sahle's catalogue. The Internet Archive's Wayback Machine was consulted for earlier editions (pre 2016) as it stores early snapshots of many editions. The URL of the snapshot that was consulted was recorded in the dataset for reference. By looking at an early snapshot it was often possible to see if a citation recommendation was already present earlier in the edition or if it was added later. For several editions no early snapshot was available, and I had to use a more recent snapshot or create a new one.
Each edition in Sahle's catalogue was inspected and the presence of citation information was evaluated as follows. Data about three categories was collected:
the presence of a citation recommendation with or without examples of how to cite the edition or parts of it
the presence of PIDs or permalinks
the presence of any version information (of individual objects or the entire edition)
What made the assessment slightly difficult, is that digital editions do not yet have an established structure. Consequently, the citation information could be found in different places. However, after looking through several editions, the author identified the most likely places to look for citation information:
Some editions have bibliographic data or an example of how to cite the edition directly on the start page.
Some editions have their own citation page which can be accessed through a link in the top navigation.
Occasionally the footer includes bibliographic data, citation recommendation or a link to a page with citation information.
The "About (this edition)," "Project," "Copyrights and permissions" pages sometimes contain a section explaining how to cite the edition and parts of it.
The impressum may contain citation information.
Some older editions provide an entry on how to cite the edition in the FAQ section.
Citation information could be available directly with the edited texts, facsimile images, etc.
And finally, it should be mentioned that some editions use a system of "implicit citation" by providing structural entities within an edition, but no explicit recommendation on how they should be used for citation and consequently they were also not counted as providing citation recommendations.
This variety of options highlights a core problem for users of SDEs. When moving from one SDE to another, one cannot be sure to find the citation information in the same place or implemented in a similar way. As the collected data for this study is based on the observation of the author, it might be possible that hard to find permalinks or citation recommendations were overlooked and are not included in the dataset. However, this does not impact on the results of the study as the goal was to explore the citability of editions. Citation information that is hard to find and uncertainty about the availability of permalinks, reduce the chance that an edition will be cited correctly and, therefore, can be considered as "not present" or "not relevant."
The author looks at a "Citation recommendation" as a statement about how an edition or parts of it should be cited. Most editions that provide such information label it clearly. The dataset records not only the absence or the presence of such recommendations, it also includes a distinction between citation recommendations for the entire edition and recommendations for a more granular level of citation such as individual letters, individual webpages, images, chapters and paragraphs of a text. These categories are in concordance with the data collected in Sahle's catalogue. Citation recommendations can have different levels of detail. Some may only suggest a permalink or an URL to be used, other editions include all necessary bibliographic data (editor, year of publication, etc.) for a citation and provide citation examples. Frequently, these citation examples follow a common citation style like MLA or APA. In addition to citation recommendations and the presence of examples, version information indicated by an SDE was also recorded. This information is very diverse and ranges from a simple version number for the entire edition (like an edition number in a book) to uniquely citable PIDs or permalink for all older versions of individual resources. The provision of a date of access is frequently found in citation recommendations. While the suggestion to include an access date in a citation shows awareness of the problem of changeability of an online resource, an access date is an indicator of an research process and does usually not correspond with an actual change to an online resource [
Broyles 2020
, 9]. Consequently, the inclusion of an access date in a citation recommendation has not been counted as versioning strategy.
Finally, the provision of permalinks or PIDs was recorded. In the dataset either the name of the PID system (e.g. URN, DOI) is listed, or if an edition uses permalinks, or if neither was found. Another identifier which is usually used for print publications, the ISBN, is occasionally found in SDEs too, for instance in the Jane Austen's Fiction Manuscripts' edition or the Vespasiano da Bisticci, Lettere. The use of ISBNs is particularly frequent in earlier editions as they were used, for example, for CD-ROM publications. Even if ISBNs are usually not listed among the PID systems, they are globally unique identifiers and I have recorded them in my dataset among PIDs and permalinks. One edition uses ISBN-A which is a DOI based on an ISBN.
[8]
Some editions use unique and persistent project IDs. For instance, the "How to cite" page of the edition The Diplomatic Correspondence of Thomas Bodley, 1585-1597 recommends that the persistent project IDs of each object should be included in any citation.
[9]
This so-called "Transcript ID" will ensure that a resource can be found also in the future even if "the website is restructured or the URL changes." Persistent project IDs do have their value for internal operations in an edition and can be used like canonical numbers to refer to a resource or parts of it. In the context of a specific domain or edition and combined with an URL (the editions URL) they become globally unique identifiers and therefore I have counted them as permalinks in the dataset.
Citation recommendations provided by digital editions
The survey data shows a constant increase of editions that provide citation information for the edition or parts of it (see Figure 2). Interestingly, the number of editions that provide citation information for the entire edition has not increased much, from 25.3% (pre 2006) to 29.1% (2006-2010) to 19.7% (2011-2015), and 28.8% (2016-2020). However, the number of editions that provide granular citation options has increased nearly five times over the last 20 years. It seems that providing only a citation option for the entire edition was more common in the early times of digital editing, while in the past decade, editions increasingly provide recommendations for the citation of individual objects and also for sections within an edition. To sum up, more and more SDEs provide citation recommendations and especially editions that provide recommendations for granular citation have increased.
During this research, several strategies for the inclusion of bibliographic information and citation recommendations have been identified. The first strategy is a very traditional approach: a title page. A title page, like the ones found in printed books, is an established means to communicate essential bibliographic information required by common citation styles. The author's initial assumption was that title pages might primarily be relevant in early SDEs that follow the printed book style and, therefore, recorded the presence of a title page only in the "Comments" column of the dataset. After having analysed the data, it seems that title pages feature more prominently in SDEs than originally expected and are present even in more recent editions (see Figure 4). However, it must be noted that a great number of editions with title pages were published series-like by the same organisations, for instance, the Herzog August Bibliothek (HAB), and the Éditions en ligne de l'École des chartes (Élec), and Romantic Circles (RC). These organisations seem to have developed a template for SDEs which includes a title page. The presence of a title page does not exclude the use of other forms of citation recommendations in the same edition. On the contrary, the HAB uses a standardised citation statement and the Romantic Circles provides a citation page.
Another strategy is to provide a brief statement that exemplifies how to cite the edition or parts of it. Such citation examples can look very diverse and may be found in different parts of the SDE. For instance, a citation recommendation for the entire website may be found on the home page, in the footer section, or on some subpage of the website – frequently on either the About, Copyright, Imprint, Permissions, or Project page (see Figure 5). The citation example may follow a common citation style; however, it is important that the necessary bibliographic data is provided to apply to the most common citation styles. Sometimes, however, only a permalink or PID is provided. While this is certainly enough to identify an online resource and link to it from other online publications, it does not provide enough information for citing using a traditional citation style.
In addition to a citation example for the entire SDE, granular citation examples for parts of an edition, for instance, individual web pages, edited objects, images, or even parts of texts, such as chapters and paragraphs, may be provided. These text- and object-related citation examples are in most cases displayed directly below, above, or next to a text or other object, for instance, as a text box, a cite button, or a link that produces a pop-up with the citation example in it. Citation information directly at the citable resource may, for instance, be found in the Jahrrechnungen der Stadt Basel 1535 bis 1610 – digital which provides a citation example for each transcription(see Figure 6), or the Edition Humboldt digital, and the edition Alfred Escher-Briefedition which provide citation statements for their letter transcriptions at the bottom of each page. The Welsche Gast digital displays an URN, DOI and a permalink prominently with its online resources and additionally a link that generates a detailed citation example (see Figure 7).
Granular referencing strategies
The survey had a very wide understanding of granular addressing strategies: if editions provide recommendations on how to cite anything beyond the edition as a whole, it has been considered as "granular addressing." The collected data shows that before 2010 only few editions provided the option for granular citation, while in the last 10 years editions are increasingly providing recommendation on how to cite their individual parts (see Figure 2 and 3). However, occasionally SDEs go even further and provide addresses for smaller citable entities. The "addressing markup" strategy for addressing parts of an XML or HTML document using an URI and a
fragment identifier
or standards such as XPath and XPointer [
Simpson 2009
] is most frequently used by content providers to create citable entities within texts in scholarly digital editions and we will look at different examples such as CTS further below. However, it has to be pointed out that the other strategies for granular referencing are also used; an example would be the addressing of regions within an image using the Image Interoperability Framework (IIIF) [
Witt 2018
, 229–33] [
van Zundert 2018
].
[16]
This strategy is still not widely present in SDEs, but holds great potential for future research with images in editions.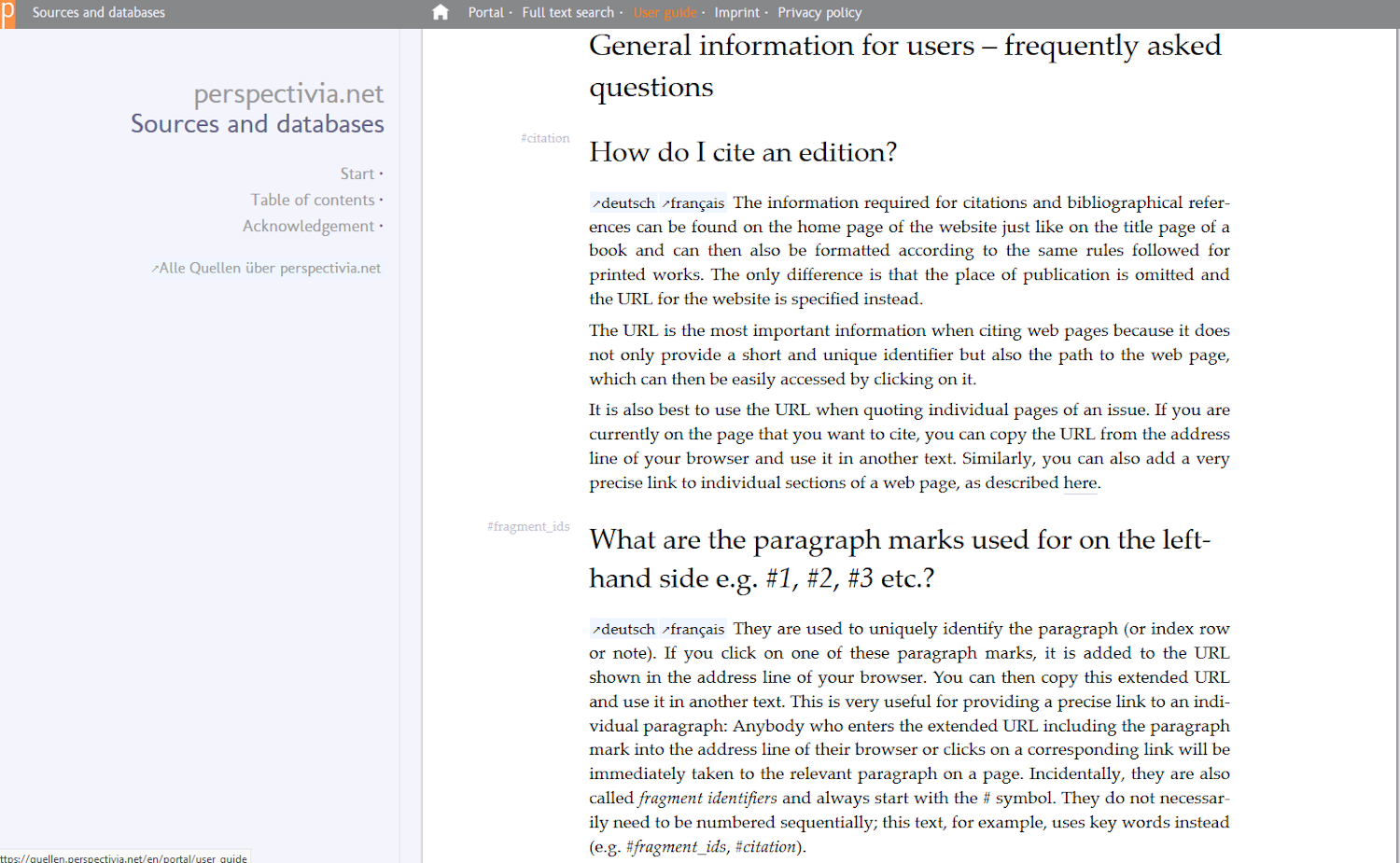 Citable entities in SDEs are usually HTML fragments that have an attribute "id" and can be addressed using a
fragment identifier
attached to a URL. The publication platform of the Max Weber Stiftung Perspectivia.net provides a detailed citation recommendation for its editions including a section on how to cite granular entities such as paragraphs using fragment identifier (see Figure 9). The traditional workflow is to generate the fragment identifier during the transformation process from TEI to HTML. The Text Encoding for Interchange (TEI) standard has become the main standard used for digital scholarly editing projects worldwide. The traditional workflow in TEI editions is that edited texts are semantically marked up and stored in a TEI document for long-term preservation and exchange, but the primary access point for a user is an HTML, CSS and JavaScript-based user interface generated using XSLT, XQuery or other technologies that translate between data (storage) and publication. From the perspective of citability it is important to note that the structure of the TEI document and the HTML web presentation can be fundamentally different. In fact, during the transformation process from TEI to HTML, content may be removed, added, or reorganised [
Flanders et al. 2016
, 264]. Text, metadata, markup and fragment identifiers in the TEI document are not necessarily the same as in the HTML document. Consequently, citing the text from the TEI document or the presentation of the text by the edition's user interface are two different things. For the sake of citability both should be possible. However, as TEI is the format for long-term preservation of data; it could be argued that ideally a citation should point to identifiers in the TEI source file. Furthermore, the mapping between TEI and HTML structures and identifiers for citation needs to be clearly documented and communicated. This can be done using the element
references declaration
(
<refsDecl>
) in the TEI header. However, documentation should also be present on the website of the edition. Lastly, another option to reduce divergence between the TEI and the user interface would be to create a user interface that reproduces the TEI source document (or parts of it) in HTML. This is, for instance, realised by the CETEIcean project [
Cayless 2018
, 258–62].
[17]
In a digital editing context attempts have also been made to use semantically structured PIDs for granular addressing of sections of a text. One such attempt is the protocol Canonical Text Services (CTS) which was originally developed for the referencing of ancient texts. Ancient texts, such as Homer's hymns, often have established canonical numbers that were used for citation for decades or even centuries [
Bleier 2021
]. CTS provides a means to translate these citations into digital form and makes them human and machine-readable [
Blackwell and Smith 2016
] [
Kalvesmaki 2014
, 15–6] [
Smith 2009
]. The CTS understands a text as a number of hierarchically structured entities that can each be addressed by established canonical citation rules. To identify these entities URNs are used to follow a syntax containing canonical names and numbers. Undoubtedly, this is an elegant and practical solution to create abstract and human-readable persistent identifiers for texts. However, as Kalvesmaki already pointed out, a fundamental problem is that the "cts" namespace is not registered with the global namespace authority IANA [
Kalvesmaki 2014
, 20] and, therefore, anybody could register and use the namespace for other purposes. Consequently, Perseus
[18]
and other projects must be aware that their URNs are currently not sustainable in the long run. Perseus itself translates its URNs into URLs. The provision of permalinks based on the URN syntax would be a suitable workaround until the URN namespace issue is resolved.
A project that has a similar strategy is The Classical Latin Texts online collection by The Packard Humanities Institute (PHI). This project makes numerous classical texts available and citable using canonical numbers in their human-readable URLs that follow a similar logic as the CTS URNs.
[19]
Other projects also implemented solutions to represent traditional canonical citations as digital citations. The following are only a sample of projects that succeeded in this process. The dMGH project makes the monumental edition series Monumenta Germaniae Historica (MGH) available in digital form. The project uses human-readable permalinks containing the known abbreviations for volumes of the MGH and individual page numbers can be included in the URL for citation. This is an interesting example for the use of object-related visual numbers for citation.
[20]
The final example is Peter Robinson's suggested solution to the citation of electronic texts which is also based on URNs. He calls it the "documents, entities and texts" (DET) scheme and demonstrates the applicability of the system through an implementation into the Textual Communities environment using the Canterbury Tales as an example [
Robinson 2017
].
Two final points concerning "granular citation" need to be discussed in brief. The first is the bibliographic data for the paratextual pages of an SDE that is frequently missing. Some editions provide recommendations on how to cite the edition or parts of it, but it is sometimes not clear how to cite the introductions, commentaries, bibliographies, technical documentation, the documentation of the encoding model etc. These are fundamental resources of an edition and it should be possible for a user to cite them correctly. The second point is important in digital editing projects that were produced in teams. The TEI
<respStmt>
(statement of responsibility) allows recording of the individuals responsible for the editing of a TEI document and also their roles. Frequently, the main editor(s) only are mentioned in a citation statement. Many people apart from the editor(s), however, are often involved in compiling the transcriptions or collations, while xml developer(s) are responsible for the data modelling and web developer(s) are responsible for the correct presentation of the edited text on the edition's website. The question arises whose name should appear besides that of the main editor(s) in a citation statement? When individual resources, such as a transcription, are cited, at least the person(s) who did the main editorial work should have a prominent place in the citation statement. Similarly, the xml and web developer should be cited when referring to the data model (as ODD or a prose documentation) or the source code of the website. To list every project member in a citation is not practical as this will always result in an "et al" mention and the essential information about responsibilities gets lost.
PIDs and permalinks in digital scholarly editions
PIDs and permalinks are central for citation of SDEs as they are persistent names for web content and consequently imperative for reference texts that are used for citation by the scientific community. However, the survey results are slightly disillusioning (see Figure 10). It is a positive development that the use of permalinks and PIDs has increased in the last two decades. Yet over 75% of SDEs still do not provide PIDs or permalinks – or at least do not communicate this information to their users.
While URNs and DOIs are well known PIDs and their use is already a sign to the informed user that these identifiers can be used for citation, URLs have a bad reputation for being unreliable and have to be explicitly labelled as being permalinks. Some editions might use their URLs as permalinks, but do not explicitly state this, or if they do the statement is difficult to find. As mentioned in the introduction, the maintenance of PIDs and permalinks is key to their function as persistent names for online resources. Ideally, an institution with suitable infrastructure and a commitment to preserve and maintain its online resources should oversee the hosting of a SDE. The same is valid for the management and maintenance of PIDs and permalinks. Long-term preservation and the permalink strategy are important information for a user as they may increase trust in the stability of an online resource. Therefore, such a statement should be placed in a prominent position.
Conclusion
Scholarly editions – both in print and in digital form – are reference works for scholarly discourse. Consequently, resources provided by scholarly digital editions (SDE) should be clearly citable and persistently available. This is, however, not always the case as SDEs are often complex websites with different resources and traditional citation style guides do not sufficiently cover this type of website. Furthermore, developers of SDEs often do not provide the necessary bibliographic data and guidance to cite an edition and its resources correctly. Apart from the bibliographic data that is also required for the citation of editions in print, crucial information specific to SDEs has been identified and discussed including permalink, PID, versioning strategies, and granular citation options for digital resources.
As in the digital realm there is no stable physical representative of the edition, the provision of permalinks or PIDs for the scholarly digital edition and its resources is crucial. If online resources are updated and changed, it is necessary to provide stable identifiers for older versions and, ideally, to make them accessible for users. Furthermore, the possibilities and potential for granular citation in scholarly digital editions have been addressed by briefly discussing the strategies used by IIIF, fragment identifiers and the CTS protocol. In this context, it is important to note that a substantial number of texts used in the humanities have established titles and numbers for citation. CTS, DET, dMGH, PHI and similar projects try to translate the logic of traditional into a digital format. By this means not only the edition, but fragments and objects within the edition may be cited in the digital realm using existing and widely used logical structures of a text.
The survey conducted as part of this research has shown that over the past two decades, the awareness of these topics has increased among SDE developers. However, most digital editions still do not sufficiently communicate to the user what can be cited in an SDE and how to do so safely. Citation information is, nevertheless, imperative as each edition may have a different structure, it may also provide a different set of online resources, or use diverse granular citation strategies. Therefore, not providing clear information on how to cite the edition or partial resources may decrease the trust in and the citability of a digital edition. Furthermore, digital editions are produced by teams rather than individuals and the acknowledgement of the individual responsibilities of team members can and should be emphasised by citing these persons alongside the main editor(s) when appropriate. This information needs to be communicated to a user.
A further important point of consideration is the provision of all necessary bibliographic data for citation. The most practical approach for this would appear to be the placing of a citation statement for the entire edition in a prominent position on the home page, and additional citation statements referring to the individual resources provided by the edition. Permalinks and PIDs should be clearly highlighted and it must be communicated to the user that these can and should be used for persistent citation. As the persistent availability of online resources always depends strongly on the institution maintaining them, a digital edition should outline its PID/permalink strategy and policy on the website. Furthermore, users should be informed on how an edition deals with updates and revisions of its resources. A good place for such a statement would be a citation page or the "about" page. How changes are logged and how old and new versions can be cited is vital information. As a matter of fact, very few online editions will remain unchanged over time. Ideally, a new permalink or PID should be created for every version.
Currently, there is no standardised way to provide citation information in an SDE. Various strategies were discussed in this article and it was occasionally pointed out that some solutions seem to be more frequently used. This might be the first step towards the standardisation of this very important feature of an SDE. However, as there are too many different types of editions covering various subjects, further research is necessary to analyse what kind of citation recommendation fits to different types of editions. Currently, the best advice for editors and developers alike is to provide essential bibliographic data for the citation of an edition easily accessible to the user (ideally in human- and machine-readable form). It is essential for a user to know how to cite the individual resources of the edition and to easily find permalinks/PIDs and information on the versioning strategy of an SDE. Following these basic rules will increase the citability of an edition and help move towards more stability for scholarly online resources.
Notes
Works Cited
This work is licensed under a
Creative Commons Attribution-NoDerivatives 4.0 International License
.