DHQ: Digital Humanities Quarterly
2020
Volume 14 Number 3
The Fold: Rethinking Interactivity in Data Visualization
Abstract
We propose the philosophical notion of the fold as an evocative vocabulary for the design and critique of interactive data visualizations. An expanding range of application areas, such as digital art history and literary studies, illustrates the potential of data visualization for research and education in the humanities. Coinciding with the increasing currency of data as evidence in the humanities, this research addresses a growing interest in data visualization for visual analysis and argumentation. For example, cultural collection visualizations promise a range of possibilities for visual and interactive representations of digital cultural heritage, used both for free exploration and focused research. Based on the concept of the fold, prominently advanced by Gilles Deleuze, this paper outlines a critical framework that draws attention towards the complexity of the underlying data. The fold offers a way to analyze and conceptualize visualizations through the lens of three integrated operations: explication, implication, and complication. It is an opportunity to think of interactive visualizations as portals into coherent, elastic, and ultimately infinite information spaces. Accordingly, it rejects the separation between interactivity and visual encoding and draws attention to the transitions between multiple states of a visualization. We identify design patterns of the fold in data visualizations, devise a framework for the critical interpretation of interactivity in data visualization, and demonstrate the implications for the digital humanities.
Introduction
... its envelopments and developments, its implications and explications, are nonetheless particular movements that must be understood in a universal Unity ...  [Deleuze 2006, 25]
With this research, we transfer Deleuze's notion of the fold to data visualization and derive three concrete qualities for visualization design and critique in the humanities: coherence, elasticity, and infinity. In a next step, we characterize the manifestation of the fold's operations and qualities in a range of exemplary visualizations with the help of interpretive illustrations and concrete examples from digital humanities projects. Lastly, we formulate a critical framework consisting of principles and questions for the design and interpretation of interactive visualizations and discuss open questions for future work at the intersection of data visualization design and humanistic inquiry.
Related Work
The Fold
In the following, we briefly introduce Gilles Deleuze's concept of the fold, in which he links Leibniz' baroque idea of monadology to postmodernism [
Deleuze 2006
]. Specifically, we focus on transferring some of Deleuze's thoughts on perception and information accumulation to the case of data visualization, drawing mainly from the first part of "The Fold" and abstracting vocabulary and concrete functional illustrations. Philosophy, in Deleuze's sense, creates concepts, and concepts produce an orientation or direction for thinking [
Colebrook 2002
, 15]. In this spirit, we examine the fold's operations, as proposed by Deleuze, to speculatively extend them into the realm of digital information spaces and devise tentative principles for interactivity in data visualization. The connection of Leibniz' philosophical ideas to the fine arts and postmodernist thinking has already been pointed out by Deleuze himself, as well as others [
Bredekamp 1988
]. We aim to show how Deleuze's ideas about the baroque concept of monadology, and his postmodern take on the fold, open up promising avenues for the design and interpretation of interactive visualizations.
Thinking through the Manifold
Operations of the Fold
The perpetual incompleteness of any knowledge is what makes this theory so relevant for information representation, which aims to communicate complex matters, but needs to make its omissions and reductions transparent. Folding processes can disclose and even simplify 'complicated' occurrences: the moment of collapsing an angle from 1 degree to 0 degree, when the eye can visually follow the angle turning into a line, describes this process best. After having observed the transition, the resulting line is not only a line but consists of two layers and could still be seen as an angle; it comprises multiple folds of information that we can only capture if we are able to follow and understand the operation of the fold.
Qualities of the Fold
"... an elastic body still has cohering parts that form a fold, such that they are not separated into parts of parts but are rather divided to infinity in smaller and smaller folds that always retain a certain cohesion."  [
Deleuze 2006
, 6]
In addition to the concrete operations of the fold, Deleuze's opus constitutes a unique and global proposition about the form and function of information spaces. To relate the fold theory with visualization practice, we have abstracted three overarching qualities – coherence, elasticity, and infinity – that align the fold with interactive data visualizations in the context of humanistic inquiry.
Coherence
Instead of considering information 'points' as discrete objects, the fold expresses the coherent quality of monadologic systems that are defined by context and relations. Accordingly, the single data point in a visualization stands for more than one expression, it is part of a system and defined through its connections to other points of the network. As stated by Deleuze in the opening quote of this section, this quality multiplies itself infinitely: No matter how far the information space is passed through, each finding, output, or information point possesses a relation to the beginning of the journey and the whole universe. The quality of coherence thus includes outcomes and object pairings which might seem opposed, since every connection forms an everlasting part of the fold.
Elasticity
This quality captures the ongoing change in an information space, the twisting and turning of information and connections, with one impulse following another. With regard to thought processes, elasticity becomes apparent: Thoughts sometimes stretch and flow unconsciously and casually, sometimes quickly and targeted, but they are continuously changing their form and direction. The same principle should be applied to visualization elements: Through their ability to fold, individual elements and entire arrangements can assume multiple possible manifestations, are flexible in their position and appearance, but never lose the first principle of coherence. Elasticity thus describes a material quality that is situated between fluidity and hardness, i.e., neither lacking coherence nor being fully rigid.
Infinity
The fold surprises with its infinite possibilities; the outcomes of folding operations appear to be unlimited. Smaller and smaller threads can be unfolded in a visualization, or connections between elements can be found and followed in a multitude of possible combinations. This does not imply that the actions and events in information spaces are not also repeatable or retraceable, but rather that folding operations are never final or completed. The same holds true for the underlying datasets that may never be sufficiently comprehensive to represent an artefact or collection. There are always further data perspectives that could, in theory, be invoked for interpretation. The quality of infinity is especially connected with the operation of complication and reminds us that comprehensive information spaces might seem structured and transparent at first glance, but are highly dependent on the perspective of the viewer and a multitude of data dimensions. Because the fold offers (potentially) infinite possibilities of twisting and turning, folding processes remain unpredictable and serendipitous [
Leong et al. 2011
] [
Thudt et al. 2012
]. If we accept the (partly) unpredictable folds of large information spaces by learning to follow their implication, explication, or complication, we can come to a deeper understanding of our own thought processes and actions, and see the connectedness of every single point that came before and comes after.
The Fold in Interactive Visualizations
In the context of information visualization, interactivity has been largely viewed through the lens of users tasks and intents [
Yi et al. 2007
], distinctly separate from the visual representation of data and animated transitions between views. In Deleuze's description of information processing lies an opportunity to conceptualize visualizations in a novel framework that rejects the separation between interactivity and visual encoding, just as the monad rejects the dualistic distinction between body and soul. We aim at highlighting an encompassing practice of visualization for the digital humanities, which have to find visual representations for their collections and datasets, while on the other hand conceptualizing interactivity with tasks as casual exploration or deep analysis in mind. While various visualization techniques already refer to "folds" or "folding" in their project descriptions or prototypes [e.g.,
Bach et al. 2016
,
Dörk et al. 2014
,
Riehmann et al. 2018
,
Zhao et al. 2014
], we will demonstrate that current visualization practice actually provides a variety of interaction patterns that align with the principles of the fold and can serve as an inspiration for digital humanities scholars. Accordingly, with this research, we do not present new visualization techniques, but explore a new way to conceptualize interactivity in data visualization.
Designing visualizations along the fold means to understand information spaces as elastic, coherent, and potentially infinite systems. Instead of focusing on static snapshots of visualizations, which would favor their visual encoding, the fold sheds more light on the "in-between" states of folding processes, emphasizing the transitions between visualization states as meaningful views that need to be considered throughout the entire design process. In a design study, we have already described this process by means of a book collection from the 19th century, focusing on a set of functions which enable what we call "scalable exploration" [
Bludau et al. 2020
]. With this work, we want to widen the focus of the design framework to questions of perception, interpretation, and critique with the help of Deleuze's philosophy. Data and the resulting representations in data visualization can be seen as folds, reminding us that any perspective can only represent one possible version of reality, while containing infinite other possibilities to perceive a phenomenon. This is especially relevant for visualization practices in the digital humanities, which aim at implementing inherently humanist research questions into their visual interfaces and have spiked discussions on the problem that data are never neutral [
D'Ignazio and Klein 2020
] [
Drucker 2011
] [
Loukissas 2016
].
This section presents examples of folding operations in data visualizations through abstracted illustrations and will subsequently demonstrate how the fold's qualities can form the basis of a critical framework for their design and analysis. We reference existing visualization examples, which have inspired us in the creation of the illustrations and encourage readers to visit them to gain a deeper understanding of the various mechanisms of the fold.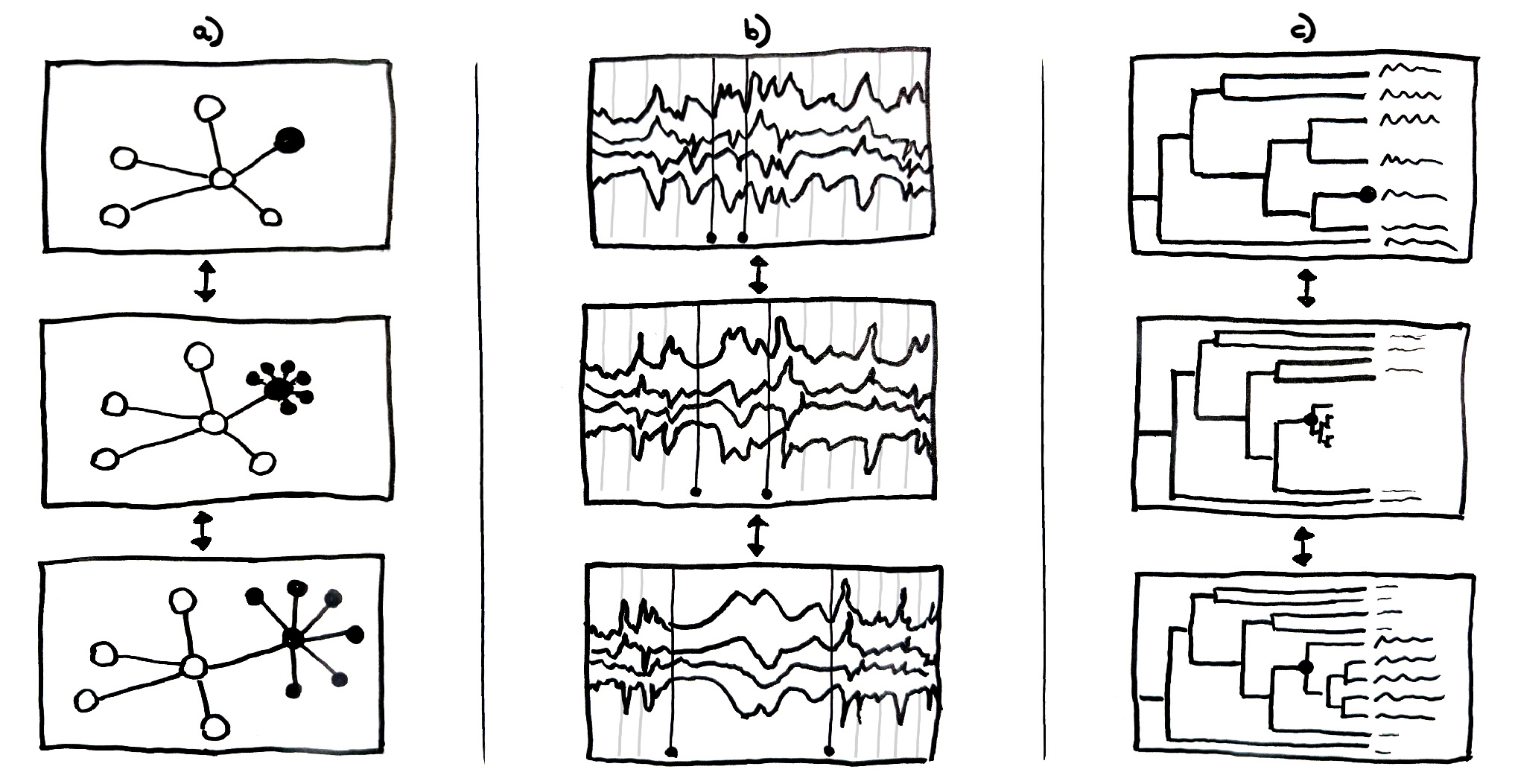 Studying Visualizations through Fold Operations
Arguably, explication and implication as the first two operations of the fold are common mechanisms in data visualizations, implementing the fold in the sense of increasing or decreasing detail, aggregating or separating, clustering or dispersing, etc. In particular, semantic zoom [
Perlin and Fox 1993
] already supports the operations of the fold by allowing different degrees of granularity while preserving the overall context.
Figure 2
illustrates explication and implication for three typical visualization techniques:
a)

An interactive mechanism common in network visualizations is selecting a node in a graph to trigger an explication, which "unfolds" into multiple sub-items and thus provides a more granular view on a selection [e.g., Morris 2018]. Network graphs like this are popular in the digital humanities, for instance when visualizing relationships between authors as in this visualization of Johann Wolfgang von Goethe's social network: https://www.deutsche-biographie.de/graph?id=sfz53095 [Historische Kommission and Bayerische Staatsbibliothek 2010]. On the other side, implication describes the process of reducing a set of items into a collapsed item leading to the reduction of the overall visual complexity.

b)

The explication in a temporal streamgraph stretches an area of interest to display more detail, while compressing the rest of the visualization, similar to the mechanics of an accordion. Focus+Context like accordion drawing or a fish-eye technique is oftentimes used to provide a detailed view on a specific area of interest within a visualization while preserving its context [e.g., Baur et al. 2012, Cuenca et al. 2018, Morawa et al. 2014, Riehmann et al. 2018, Slack et al. 2005]. As one of the main focus of interest, timeline visualizations have been put into practice with this kind of compression technique, as in the "Touch the Time" project (https://www.uni-weimar.de/projekte/vr-scratch/videos/TTT.mp4) [Riehmann et al. 2018].

c)

The visualization of hierarchical data demonstrates a combination of the two previous mechanisms: Through selection of a tree branch, both the number of elements and the level of detail can be increased, while at the same time the branches that are not selected get compressed to provide sufficient space for the newly unfolded subbranches [e.g., Slack et al. 2005]. Relating to humanistic data, one case study is an expandable word tree that enables new ways of text exploration by giving the possibility to move along sequences of words through expansion and reduction of following or preceding words [Wattenberg and Viégas 2008]. Using such a word tree, it is, for instance, possible to gradually unfold all possible sentences that start with the name "Alice" in an interactive word tree version of the book Alice in Wonderland: https://www.jasondavies.com/wordtree/?source=alice-in-wonderland.txt [Davies n.d.]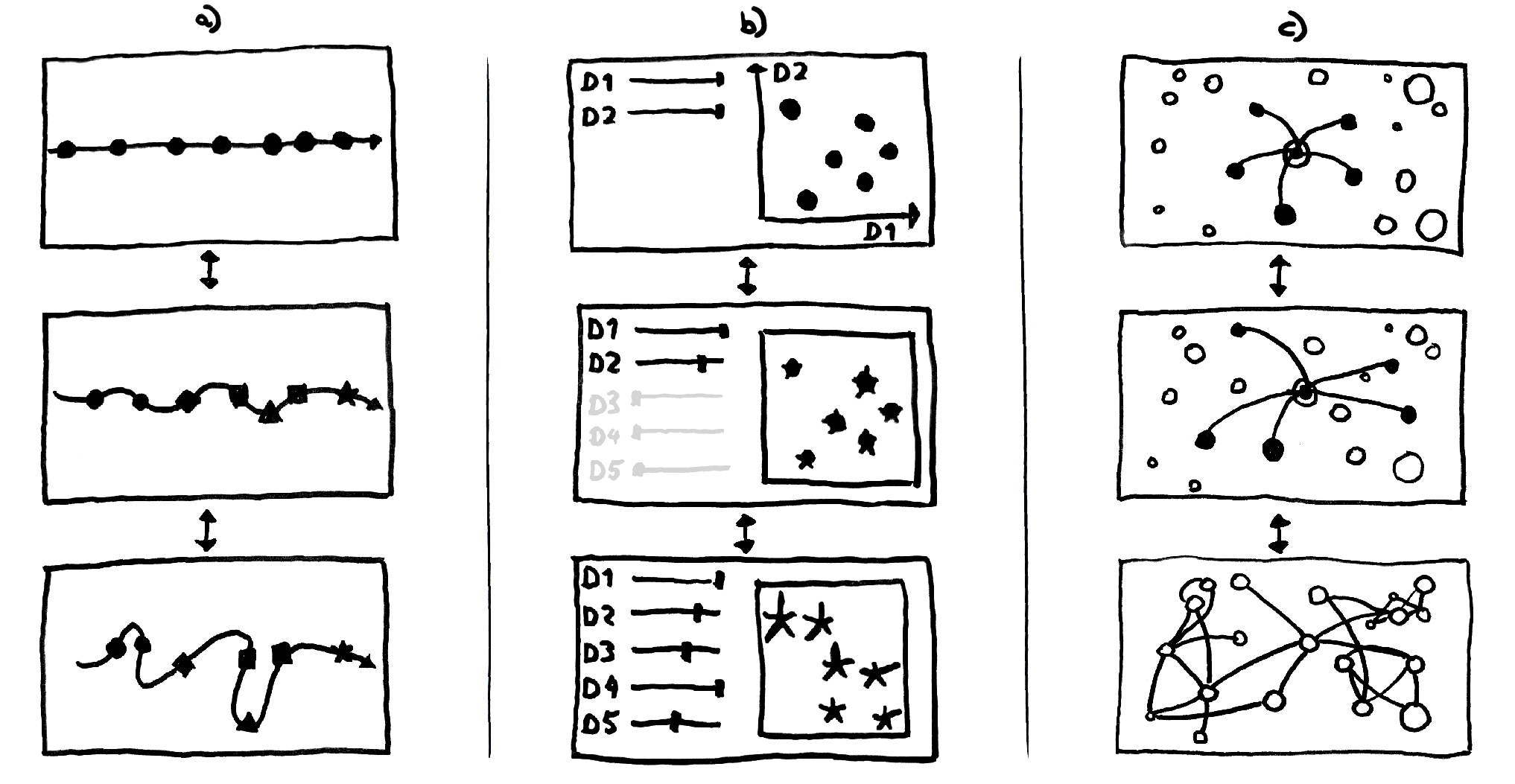 In contrast to explication and implication, which correspond to established interaction techniques, the operation of complication introduces a conceptual approach to high-dimensional data visualization that is relatively seldom considered. Dimensionality reductions and force-directed layouts can be misleading, error-prone, or difficult to grasp, yet, the gradual build-up of a multidimensional visualization can be viewed as a continuous complication (see
Figure 3
):
a)

A linear timeline arranges events solely on the basis of their temporal succession (top). The gradual inclusion of additional event data constitutes a complication, in that further aspects are introduced that differentiate and relate the items (from middle to bottom): The straight line is folded into a curve that positions similar events closer together, using, for example, multidimensional scaling, as in the Time Curves technique (https://aviz.fr/~bbach/timecurves) [Bach et al. 2016].

b)

The two-dimensional visualization of a dataset as a scatterplot (top) can be gradually complicated by the introduction of flower-like glyphs encoding multiple dimensions per element [e.g., Kammer et al. 2018, Stefaner et al. 2014] and by similarity-based positioning. With sliders on the left, each dimension's influence on the layout can be adjusted [e.g., Goldenberg 2017, Stefaner et al. 2014] (middle and bottom). As an example, such a similarity-based visualization of a country map, calculated through the t-SNE algorithm, lets the user choose between the various factors influencing the layout: https://projects.interacta.io/country-tsne [Rokotyan et al. 2019]]. Furthermore, this project offers a great example of disclosing its mechanisms through a narrative layer which leads visitors through the process under the title "Understanding the data".

c)

An egocentric network centered around one node (top) can be a starting point [van Ham and Perer 2009] to gradually expand the analysis from a partial to a comprehensive perspective. The complication dissolves the egocentric perspective towards a full view of the network in which the layout is influenced by all nodes and all links become visible (bottom). Similarly, another common approach is the reversed switch from global to egocentric views [e.g., Ortiz 2013]. In the project "Six degrees of Francis Bacon" (http://www.sixdegreesoffrancisbacon.com) [Warren et al. n.d.], it is possible to change the view from a global, forced-directed network graph that is useful to see general patterns and the general network structure, to an egocentric view. Here, the related nodes are arranged on two rings around a selection, based on their degree of separation, making it easier to differentiate between direct and indirect relations.
Contrary to visualization techniques that separate dimensions into multiple coordinated views or enforce an abrupt display change, complication suggests traceable transitions between successive visualization states, which gradually integrate additional data aspects into the same visualization. To think of multidimensional data visualizations as dynamic processes of data complications instead of a static image of reality can help identify the various factors influencing the visual representation and make interactive functions more comprehensible. For instance, a "complicated" timeline which positions similar data points next to each other, forming a curve while allowing users to follow the process of bending, sparks questions about the linearity of timelines per se and the underlying structure and dimensions of the dataset.
Towards a Critical Framework
Considering the examples above, the fold's operations help to identify the interactive mechanisms of a visualization and examine their role in transforming the appearance and arrangement of visual elements. Furthermore, the three operations can be used to spot the lack of interactive capabilities or conceive dynamic behaviors for visualizations being created. Here the fold does not only offer principles for the design of and interactions with visualizations, but also enables us to think about the potential and challenges of humanistic data. Building on Deleuze's writing and related visualization research [e.g.,
Elmqvist et al. 2011
], we now formulate tentative design principles and questions, thereby following the operations of the fold but especially relating its newly defined qualities to the critical enquiry of data visualizations.
Consistent Coupling
The fold's coherence manifests itself in the deep contextualization and connectedness of all elements. In order to realize this high degree of coherence in interactive visualizations, the visual encoding and interactive features need to be consistently coupled across all views. Coherence means, for example, that one information point stands in relation to every other point within the visualization, and the context of those relations is both visually and interactively represented. For example, in cultural heritage collections, artifacts might be related to each other through many different explicit (e.g., same author) or implicit (e.g., sharing a subject) relations over a multitude of possible data dimensions (e.g., attributes, visual similarity, temporal sequences). Integration of coherence in visualization is not only dependent on abstract relations but mainly visible in the form of visual cues and linkages that reveal how elements are connected and invite the viewer to follow them.
Question 1: How are the connections between data elements, visual encodings, and interactive features exposed?
Furthermore, the quality of coherence is particularly promoted by consistent design decisions across the entire visualization, regardless of its dynamic state. As a person interacts with the visualization, the coupling of visual representation and interactivity consistently holds. Similarly, the behaviors of interaction techniques function consistently across all views. Visual variables, such as color, shape or position, that are added to encode additional dimensions should not stand in conflict with existing encodings. Humanities scholars conceptualizing visualizations should therefore pay attention to different states of the visualization (e.g., overview – detail), which interactive functions can be used at which states, and watch out for the application of them throughout a visitor's journey – for instance when applying filters to a dataset and changing to a different zoom position afterwards.
Question 2: How consistent are visual encodings and interactive techniques across all views, throughout multiple continuous states?
When reducing many points into a single point, elements should not be removed, but be folded while preserving the respective relation to the remaining elements. The implication or explication does not only influence a discrete element but also has an effect on the whole visualization, indicating the overall coherence of the information space. When visual features are reduced or when elements are collapsed, the design of the respective transitions should be meaningful and consistent. Similarly, elements being added should appear from logical positions in the interface.
Question 3: Do the arrival and departure of elements in the display convey the concept of object permanence?
Constrained Fluidity
A high degree of elasticity means that elements are flexibly embedded into a complex visual appearance and arrangement and that they are able to change their shape and leave their position to appear elsewhere. They are not static and can show themselves anew repeatedly – and, also in unforeseen representations. For example, objects in visualizations of cultural collections can have multiple relations to each other but are often assigned a static position in web-based interfaces. Instead, it could be helpful to include flexible positions and to consider a range of visual representations, moving between abstract shapes to more concrete images of an object. However, the fold is neither erratic nor random. The changes carried out through folding operations should be comprehensible and meaningful.
Question 4: To which degree are fluidity and rigidness balanced so that the elements and arrangements accommodate all possible values and relations in a dataset?
The spectrum of dynamic changes to individual elements and entire arrangements needs to be carefully considered. To do this it is paramount to view visual encodings not as static mappings between data dimensions and visual variables, but as complex sequences modulated by the fold's operations. Accordingly, like a blooming flower, the additional data dimensions in
Figure 3
b) are already comprised in the data points and their revelation demonstrates their elasticity.
Question 5: Are the elements and arrangements designed with regard to their dynamic behaviors, i.e., their intermediate states?
Humanistic data is oftentimes shaped by various forms of uncertainty, subjectivity, and ambiguity [
Drucker 2011
]. Nevertheless, since such data properties are difficult to address in visualizations [
Hullman 2019
] and might significantly increase complexity, they are oftentimes omitted completely in visualizations. The elasticity of elements might help to reveal such data properties through folding operations on demand for specific elements. Thus it is possible to critically analyze the datasets beforehand, but even more so during the visualization process. It should be tested whether a visualization shows what researchers expected to see from the dataset or whether it can reveal new qualities in the data through new views and interactive functions.
Question 6: Does the representation of the data through the visualization constrain interpretive qualities of the data, such as uncertainty or ambiguity, that could be dissolved through interactivity and elasticity of the encoding?
Linked Perspectives
The quality of infinity relates to a multitude of possible representations of data, the insights they may evoke, and circular or open-ended navigation mechanisms. Specific combinations of visual form and interactive functionality in a visualization can evoke new, surprising, and inspiring expressions of a dataset and a variety of possibly unexpected insights, surprises, and serendipitous discoveries. The quality of infinity can be observed, for example, in
Figure 3
 b) through the seemingly infinite combination possibilities within the weightings of the multiple dimensions.
Question 7: Do all visual elements in the interface afford interactivity to transform the view and generate new insights?
An interactive visualization is never complete, but always in progress. If a data visualization could be thought of as a densely connected network of linked perspectives, at any given point in the network of possible visualization states, users ideally should never be led to dead-ends. For instance, unfolding detail in
Figure 2
 b) and c) will always lead to an impression of other information while preserving the context and therefore allowing for open-ended interactions without the need to resort to the browser's back-button.
Question 8: How is the incompleteness of views embraced and endless traversal of the data encouraged?
Discussion
Arguably, a lot of thought during the design process goes into the visual representation of a visualization, i.e., the mapping from various data dimensions to a limited number of visual variables, whereas interaction techniques and animated transitions are oftentimes only an afterthought, sometimes even used as a last fix to solve issues of a visual encoding. Similarly, the interpretation of data visualizations is almost exclusively focused on the visual representation – the rules of turning data qualities into graphical elements – often disregarding the dynamic interplay between display parameters and interactive capabilities. With the fold we put forward an approach that emphasizes a need for simultaneous and coordinated consideration of interaction and representation in data visualization. In the process, we identified the connections between visual encoding and interactivity as crucial for the implementation of the folding operations and emphasized them in the critical framework, arguing for a close consideration of visual appearance and its dynamic behavior.
However, prototyping interfaces may in parts still be restricted by static forms of prototyping techniques, a lack of suitable tools, or a massive amount of data. Additionally, thinking of representation and interaction in all states of a visualization in unison with the intention to achieve meaningful transitions may turn out to demand significant conceptual, technical, and intellectual effort. While realistically seeing the complexity that the fold brings to visualization practice in the digital humanities, we believe that its notion can have a profound effect on the way we think about data, and even in its smallest implementation can contribute to more profound and purposeful visualizations.
Proposing the use of the fold and its operations to approach a gap in the development of data visualization, we recommend the consideration of the qualities coherence, elasticity, and infinity as fruitful starting points for both creation and critique. Nevertheless, these qualities only describe an ideal environment for the fold. In practice, their degree of implementation might always be partially limited. While we have provided a first framework for their implementation in digital humanities projects and research, we are aware that the applied methods are highly dependent on the actual data and project setting. Furthermore, the interpretation of data visualization remains deeply subjective. Especially machine-generated arrangements, for instance, based on similarity, might need a high amount of testing and editing, or even a narrative layer, to arrive at comprehensible, yet "complicated" visualizations in the sense of the fold. Additionally, we would like to see more research into the perception and necessities of different user groups in digital humanities visualizations.
Conclusion
As data visualization continues to expand its relevance in the digital humanities, there is a growing need to come to terms with interactivity as one of its most fundamental aspects. While the challenges of cultural heritage data and the complexity of their implementation into dynamic visualizations has gained critical attention, the prospects of interaction techniques to this end are not discussed as intensely. With this research, we proposed the notion of the fold as a productive way to jointly consider interaction and encoding in data visualization. While generally understood as an essential component of data visualization, interactivity is often treated in separation from the visual encoding and as a second step in the design process, when all decisions about the visual variables have already been made. This relegation of interactivity is perpetuated in the critical interpretation of data visualization that is similarly focused on the visual encoding and lacks the vocabulary to make sense of the provided interactive capabilities. Drawing from Deleuze's writing on the fold, we formulated a critical framework for interactive data visualization consisting of operations, qualities, and questions for their design and interpretation. In this context, we do not only hope to encourage consideration of folding operations for the visualization of data, but especially see the importance of understanding information spaces and the data themselves as a manifold space. In order to treat interfaces as subject to critique and interpretation [
Drucker 2011
] [
Sengers and Gaver 2006
], the lens of the fold provides a useful thinking tool for a humanistic approach to data visualization.
To investigate the viability of the fold for the critical consideration of existing visualizations, we abstracted new, explanatory illustrations from various visualization examples. It was our aim to examine in which functions the fold was already manifested in data visualization practice. During this process, we noticed that a considerable number of the visualization techniques exhibited the characteristics of the fold, while certain aspects are still underdeveloped and could be explored in future research and design. While the pair of implication and explication can be seen in numerous visualization examples, we see a necessity and, through the notion of the fold, an opportunity for designing visualizations that offer insightful complications, more specifically through meaningful transitions. This is particularly important when visualizing digital cultural heritage data, where multidimensional and multifaceted collections or datasets offer intriguing opportunities for the joint design of interactive exploration and visual representation. Based on the operations and qualities of the fold, we have formulated a critical framework as an invitation to jointly consider the interactive capabilities and visual representations of data in visualization techniques in the digital humanities. Coherence, elasticity, and infinity are valuable qualities for the design of interactive visualizations that can trigger unexpected and surprising insights – the raison d'être of data visualization.
Acknowledgements
We would like to thank Linda Freyberg, Sascha Freyberg, Rabea Kleymann, Francesca Morini, Arran Ridley, Jonas Rogge, and Fidel Thomet for their comments, advice, and feedback along the way. Furthermore, many thanks to the reviewers of Digital Humanities Quarterly for their valuable feedback and thoughtful suggestions. Special thanks to Bruno Latour for the personal encouragement to peruse Deleuze's writing on monads and folds.
Works Cited
This work is licensed under a
Creative Commons Attribution-NoDerivatives 4.0 International License
.