DHQ: Digital Humanities Quarterly
2020
Volume 14 Number 1
Erasure, Misrepresentation and Confusion: Investigating JSTOR Topics on Women's and Race Histories
Abstract
This article investigates the topic labeling system of a widely used full-text academic publication database, JSTOR, particularly in reference to colonial North American history scholarship. Using insights developed by critical algorithm and critical archival studies, it analyzes how JSTOR's topics repeatedly misrepresent and erase work in women's, African diasporic/African American, and Native American and settler colonial histories. The article discusses concerns over the power of metadata, the need for transparent and domain-expert-involved indexing processes, and digital providers' responsibilities to accurately categorize scholars' work. It particularly focuses on the potentially disproportionate harm done to traditionally marginalized fields of study through seemingly racist or sexist topical labeling that impedes knowledge discovery.
Introduction
In April 2018, I attempted to use the topic indexing system in the academic database, JSTOR, to prepare a state of the field presentation on early American women's history. I quickly realized that in several areas of my expertise (colonial North America, women's, race, Indigenous and African American histories), JSTOR's topic categorizations displayed concerning shortcomings. Articles that were focused entirely on women's history did not seem to be categorized by the topic of "women". Instead, some were mischaracterized with "men" as the most relevant topic. JSTOR's topics for African, African American, Native American and race histories showed misapplications and erasures as well, fundamentally distorting the content of scholarship in these fields.
Finding the Algorithm(s)
JSTOR began as an online "Journal Storage" database, and is today a broader not-for-profit digital library built for academic research. JSTOR touts its availability in 10,215 institutions and 176 countries where it provides access to more than twelve million pieces of academic writing in seventy-five disciplines. It is an indispensable resource to the academic community in U.S. and women's history.
The end user can only guess at the precise topic-defining and ranking process. For instance, does JSTOR's topic identification system rely on Part-of-Speech Tagging (identifying whether each word is a noun, verb, etc) to ascertain each word's or phrase's role in a given sentence? Or might it rely on Shallow Parsing to "chunk" parts of sentences (nouns, verbs, etc) with less specificity? Do JSTOR's topic assignment algorithms identify specific text phrases such as Named Entities (proper nouns, such as individual and organization names) and select other multi-word expressions?
JSTOR's Topical Indexing: Erasure and Misinterpretation
Jennifer Morgan's article, "'Some Could Suckle over Their Shoulder': Male Travelers, Female Bodies, and the Gendering of Racial Ideology, 1500-1770", is one of the
most downloaded
in the William and Mary Quarterly [
Morgan 1997
]. Personally, I have taught it well over a dozen times since its first publication. Morgan's article focuses on European travelers' constructions of African and Native American women's bodies, showing how European print descriptions and images of women's appearance and behavior helped to build the foundations of race-based slavery.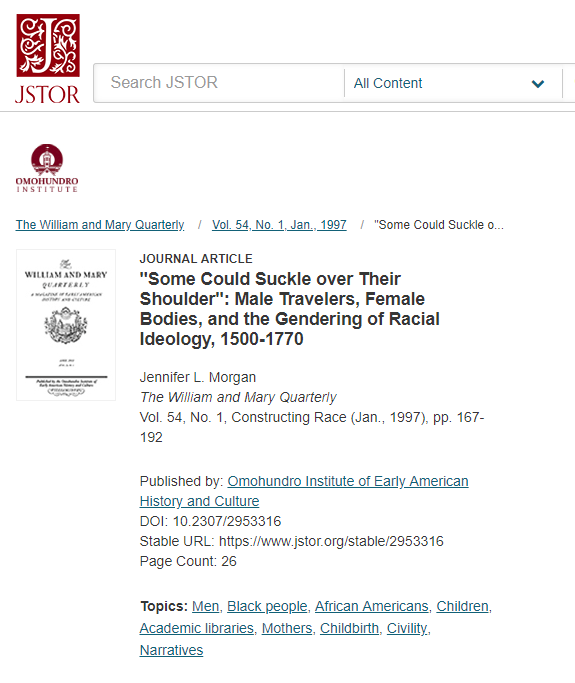 JSTOR lists nine relevant topics for Morgan's article (
Figure 1
).
[2]
The first, and presumably most relevant, is "Men". "Women" does not even appear, although "Mothers" does. JSTOR topics further categorize this scholarship as being about "Black people" and "African Americans". Both the present and absent topics for Morgan's article suggest intersectionally biased impacts for historians of slavery, race, African and African American history, and women's history. (On intersectionality, the idea that interlocking systems of power, such as sexism and racism, work together to multiply marginality, see the foundational work of [
Crenshaw 1989
]). To begin with, the absence of "women" and primacy of "men" is curious, given that JSTOR states that a topic's "relevance is determined by how frequently the term appears in the piece of content" [
JSTOR 2019a
].
Given these claims, I undertook an approximate word frequency count of Morgan's article, wondering if it were possible that the text mentions "men" far more than "women".
[3]
As Table I shows, the occurrence of words such as women/woman/female far outnumber men/man/male. "Women" alone occurs more than seven times as often as "men". So it is concerning that JSTOR determined that "men" is more relevant a topic than "women". Moreover, even the category "Black people" misrepresents the article's focus. A bigram count (occurrences of meaningful two-word compounds) shows that "African women" is the most frequent two-word expression in the article, appearing 32 times, and "black women" is the third most frequent. Calculating bigram frequencies like these offers a methodologically productive way to add specification that better translates broad terms into a topic. Such bigrams show how Morgan's article focuses on women, not generic people of African descent. But this intersectional identity is erased by JSTOR's topics. Other researchers have found that Ex libris tools also tended to turn searches related to Africa "into topics about African-Americans". This may relate to their shared use of Wikipedia for subject information and metadata [
Reidsma 2019
, 129]. Replication of popular views on race rather than discipline-specific or theoretically informed ones may lead to these kinds of biased results.
| | | | |
| --- | --- | --- | --- |
| Women-related terms | Frequency | Men-related terms | Frequency |
| women | 169 | men | 23 |
| woman | 50 | man | 10 |
| female | 30 | male | 9 |
| TOTAL | 241 | | 41 |
The issue with JSTOR's topical representation of Morgan's article is not just the absence of women, it is the minimization of an array of terms related to feminist analysis. Versions of the word "mother", which is sixth on JSTOR's topic list, appears about 22 times in this article. Yet lexemes of "gender" appear more than 30 times, and "sex" related terms (sexuality, sexual, sexualized) appears more than 50 times, but neither appear as relevant topics. Sexuality and gender are key analytic categories to scholars who do women's history, making their absence is a notable failing of JSTOR's topic categorization system.
The topics related to the analytic interrogation of racial ideologies and representation of non-white historical actors show additional problems. One of the most relevant analytic terms for historians, "race", does not feature as a topic, even though the article is about the construction of early modern racial ideologies – as the title clearly conveys. Indeed, the word "race" appears more than twenty times and other forms of the word (racial, racism, racialized) occur almost as often.
Even more concerning is the use of "African Americans" as a topic. This is an article primarily about descriptions of African women by Europeans traveling through Africa and Indigenous women in what would become America. In fact, "Africa" appears almost 3 dozen times, and "African" over seventy times, but neither made JSTOR's topic list. In contrast, "African-American" appears once — in footnote 36 as part of the title of a cited book. Yet JSTOR lists it listed as the third most relevant topic of this article. An entire continent of people has been erased through topical mislabeling in an echo of the Euro-centric bias long critiqued in other library information systems [
Howard and Knowlton 2018
]. The algorithmic erasure of African and African American women has been repeatedly noted as problemamtic by scholars across fields [
Noble 2018
] [
Johnson 2018
].
Likewise, terms frequently related to Native Americans (Native, Indian, Amerindian, Indigenous) occur more than three dozen times in the text, yet did not rate a topic, while "civility", which appeared just over a dozen times, did. Such topic choices raise the question of whose perspective JSTOR privileges with its topics. Morgan certainly discusses "civility", but does so in terms of the ways that Europeans mobilized it as a weapon of racemaking. Notions of civility are not a helpful representation of the article's contents because ideas connected to racial ideologies apparently did not merit a JSTOR topic. Markers of civilization have historically marked non-Europeans as exploitable heathens, but the modern meaning of civility as formal politeness elides these racist and colonialist overtones. The erasure of racial ideologies, as well as topics of Africans and Indigenous Americans, means that the necessary topical context here is lost, fundamentally misrepresenting civility's meaning in Morgan's work.
These comparative word frequencies suggest some human-created problems with JSTOR's topics construction. Contrary to what seems to be JSTOR's explanations of its algorithmic processes, these topics are not based simply on word frequency. It appears that JSTOR or outsourced staff have made decisions about what should and should not be in its Thesaurus and the granularity into which some topics should be divided. Unfortunately, those decisions seem to have effects that are both unintended and unattended to. JSTOR's rule base system (which may involve human-curated sets of rules and/or rule based machine learning systems that decide the parameters for classification based on applied domain knowledge) appears to be one that minimizes women, Africans, and scholarship on race as relevant topics. Analytic categorizations that seem most appropriate for scholarship on gender, race, and sexuality, as well as intersectional topics, seem largely absent. This appears to be suggest an indexing bias, offering an example "where inaccuracy crosses the line into bias" [
Reidsma2016
].
Where are the Women in Women's History?
Other topics show additional inadvertent erasures, suggesting granularity or algorithmic decisions that have substantial consequences for categorization accuracy. The topic of "houses" is puzzling because Kerber's article does not generally focus on "houses" in the sense of an architectural entity, nor as a woman's workplace. A frequency count of Kerber's article shows that "house/houses" appears more than two dozen times — but almost all of those mentions are in reference to "Hull House", the Chicago settlement house co-founded by Nobel peace prize winner Jane Addams and Ellen Gates Starr. A bigram frequency list confirms that "Hull House" is the fourth most frequent pair of terms. In this case, an algorithmic error has erased the work of a Nobel-prize winning woman rather than offering metadata to promote relevant discovery.
Book Topics: Additional Text, Added Bias
In recent years, JSTOR has expanded its corpus beyond journal articles to include digital versions of monograph and anthology chapters from a variety of academic publishers. This means that any inadvertent sexism and racism in algorithmic topic systems have potentially expanded to pollute book-length scholarship. One might think that longer texts divided into multiple chapters might ameliorate some of the errors of the article topic categorizations. Unfortunately, it appears that similarly problematic topic indexing has propagated these new genres of digital scholarship, expanding the bias presented to users.
As Figure 6 shows, neither "Women" nor "Women's history" appear as a topic for any of the chapters. Yet this is clearly a book focused on a woman. If we turn to the book's full text, the most frequent word, appearing more than 1300 times, is "her". In contrast, "his" appears only about 300 times. In fact, of the top-10 most frequently used words in the book manuscript, six are related to women (her, Esther, she, Ursuline (an order of nuns), women, mother/s) and none to men. "Mothers" was identified as the most frequent JSTOR topic for Little's book. Unfortunately, its topic frequency does not disambiguate Little's very different usages of the word: while early sections of the book talk about familial mothering, most of the mentions of "mothers" (more than 300 of the c. 445 occurrences) refers to the head of a female religious community. Indeed, the second most common bigram in the book was "Mother Esther", and similarly, "Sister Marie" was a top-ten most frequent bigram. Ideally, any meaningful topical categorization system would disambiguate word sense to avoid these kinds of pitfalls and omissions. This again may suggest that JSTOR has not effectively evaluated the need for disambiguation to accurately represent complex topics.
As in its topical assignments to articles, JSTOR's miscategorizations seem to be particularly problematic in relation to traditionally marginalized groups. Little's book shows this erasure of Indigenous people, specifically. A substantial portion of Little's book focuses on Wheelright's interactions with the Wabanaki. The word "Wabanaki" appears over 400 times in the text, and "Indian" and "Native" add another 280+ appearances. (For comparison, "Governor" appears fewer than 100 times, but still appears as a JSTOR topic for multiple chapters.) Yet the only ethnicity-related topic JSTOR offers is "White people", which is a topic assigned to three different chapters. The book's chapter that focuses on Wheelwright's captivity in a Wabanaki community where she was known as Mali includes extensive discussion of Wabanaki gender, social, and cultural practices. Yet of the eight topics assigned to that chapter, only one, "Wigwams", relates directly to Indigenous people, even though it is mentioned fewer than two dozen times. This effectively reduces the central role of the Wabanaki and other Indigenous groups to mention of the material object of their housing. Most of the other topics assigned to that chapter relate to Catholicism, which seems to promote a Euro-centric and settler-colonial bias that erases Indigenous people.
JSTOR does apply the topic of "African American" once – but this is a book about Jamaica and Britain, not North America, and I could only find "African American" in the text one time (Afro-Caribbean appears somewhat more frequently). According to searches undertaken in the Kindle version of the book, "Black" appears approximately 380 times, and "Slave" about 450 times, but "Black People" did not rate a topic while "Slaves" rated one for multiple chapters. Africa/African appears in the text over 300 times, but also did not rate a category, while "Bequests", which appeared under 100 times, did. Neither was there any topic related to mixed-race people, despite the term "mixed" (as in mixed-race, mixed heritage, mixed ancestry, etc) appearing almost 800 times. Of course, it is hard to make conclusive arguments about an entire book's content from simple word counts. But between the book's description, the LOC subject headings, and the above word frequencies, it does seem that JSTOR has flattened important historical differences into racial binaries. As importantly, it seems to employ algorithms that privilege whiteness, and can only see non-white people in terms of their enslavement, rather than as multidimensional human beings with specific ethnic and racial histories. By not focusing on conceptual categories that are central to historical scholarship, JSTOR's topics do not effectively allow for discovery related to the central analytic accomplishments of this scholarship.
Conclusion: Interactions, Reactions, and Ways Forward
The topics assigned to the articles and books I analyzed here suggest that JSTOR fails particularly well in reference to marginalized histories: for women, for Africans and African Americans, and for Native Americans. Articles on women's history are assigned the topic of "Men", which is not even a particularly relevant topic of analysis in historical study. Scholarship on Africa and people of African descent are miscategorized as being about African Americans, who are then assumed to be relegated to a presumed slave status. Indigenous people are viewed through settler colonial and Eurocentric perspectives. Important conceptual categories like race and gender are elided or erased.
It matters that I came across this problem organically, in the course of reviewing the field of early American women's history because it suggests that JSTOR's racist and sexist biases may affect others interested in race and gender as historical constructs. One of the challenges for ever-expanding digital document providers is how to offer useful access to their contents. The staff who are tasked with creating the systems that produce these topics no doubt work to the best of their ability because they believe that knowledge preservation and retrieval methods matter. The solutions, then, are far more complex than "don't be racist/sexist". This is not about individual responsibility; it is about structural failings. How we can search relates to the scholarship we can find and the knowledge that we produce.
I would not be surprised if the biases I have identified may also reflect broader problems with JSTOR's topic algorithms, relevant to those outside the fields of early American history. For example, on July 5, 2019, clicking on the JSTOR topic of "Men" returned "Variation in Women's Success across PhD Programs in Economics" as the most relevant scholarship. Several days later (July 8, 2019), the most relevant article under the topic "Men" was listed as "Women in the medieval wall paintings of Canterbury cathedral". What does it say about JSTOR's topic-producing algorithms that scholarship that very much appears to be focused on women are the top results for the category of "Men"? I suspect more research would show other kinds of broad classification problems that shade into bias. For instance, the most relevant result when clicking on the topic "White People" is a chapter from a book on Martin Luther King Jr's Theory of Political Service. The top result of "White American Culture" (a problematic category itself) is an article on "Langston Hughes, African American Literature, and the Religious Futures of Black Studies". These kinds of miscategorizations risk derailing inexperienced researchers, curtailing the use of JSTOR's resources, and ultimately making important scholarship less easily discoverable than it should be by categorizing scholarship on women and African Americans as being most relevant to topics about men and white people.
I hesitate to move beyond my critique to offer concrete solutions to JSTOR's practices both because I have only a limited sense of what JSTOR practices entail, and a much better sense of my own limitations, which include only passing knowledge of classification systems, taxonomy, database design, and the multiple needs of a massive multi-disciplinary project like JSTOR. That said, I can comment as an end user on the ways that JSTOR topics do and do not serve scholars' research and teaching needs, particularly in light of recent scholarship on such issues in a variety of big data systems.
Just because JSTOR can create topics does not mean that it offers useful metadata across fields of scholarship. It might be valuable to rethink the metadata sources and subject expert review processes that JSTOR currently practices. In the era of PhD training that moves beyond professorial careers, perhaps JSTOR could partner with professional organizations to offer internships that pair PhD students in specific fields with library and information science experts to review subject-based metadata. This might help evaluate the degree to which topics from the JSTOR Thesaurus's controlled vocabulary meet standards for appropriacy (is a given term appropriate for the target audience?) and currency (does it reflect current common usage?). For scholars of women, race and colonialism, at least, the answer currently appears to be no for too many of JSTOR's topic categorizations.
Notes
[1] The JSTOR taxonomer who tweeted in response to questions about Topics has apparently deleted her Twitter account. Screenshots of quoted tweets, as well as of JSTOR search result images not reproduced here are on file with the author.
[2] Unless otherwise specified, the topics assigned to scholarship were taken from JSTOR in June-July 2018. Over time, its topic model results have seemed to change, which I have mentioned when relevant.
[3] Frequency counts included basic text normalization: removal of punctuation; lowercasing of all text; rudimentary de-pluralization; stopword omission; and ignoring of words of fewer than 3 characters. Since all I needed were approximate frequency counts, I did not clean up the text before processing. Thanks to David Newman for technical assistance.
[4] Little, Personal Communication, July 14, 2018.
Works Cited
This work is licensed under a
Creative Commons Attribution-NoDerivatives 4.0 International License
.